Eastern Pacific Shipping has agreed to install carbon capture technology on two of its oil tankers with an option to add it to three other vessels.
Rotterdam-based Value Maritime's Filtree System – a prefabricated gas cleaning system that filters sulphur and 99% of particulate matter – will be fitted to the sister vessels M/T Pacific Cobalt and M/T Pacific Gold. The firm has agreed to have the technology installed by the end of 2022.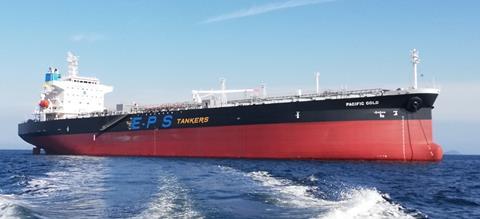 The system will capture the CO2 on board and when in port this will be discharged and sold to customers such as greenhouse owners, or injected into carbon sequestration networks – underground CO2 storage reservoirs.
"This 'plug and play' approach allows vessels to capture up to 40% of CO2 emissions today, with the potential of exceeding 90% in the future," says Value Maritime.
"Carbon capture technology was missing in our existing portfolio of emission lowering solutions, which today consists primarily of alternative marine fuels," said Eastern Pacific Shipping CEO Cyril Ducau. "We believe that the technology holds significant promise for reducing emissions for existing and future ocean-going vessels.
"Coupled with alternative fuels, biofuels and other solutions, it is a crucial step in accelerating the shipping industry's decarbonisation efforts ahead of IMO targets."
As well as capturing carbon, the Filtree System also removes oil residue and particulate matter from the wash water, which neutralises its POH and reduces water acidification, the company says.
"Bringing our filtering and carbon capture technology to the tanker market has been a goal of ours from the very beginning," said Maarten Lodewijks, Co-founder and Director of Value Maritime.