Receivers were still seeking new investors for insolvent Hamburg Shipyard Pella Sietas late October but there appears little chance that Germany's oldest shipyard will survive in its current form.
Pella Sietas announced insolvency in July citing Covid and liquidity bottlenecks but with hopes new investors could be found. However about 200 employees were let go in September and at last word just a skeleton work force remained.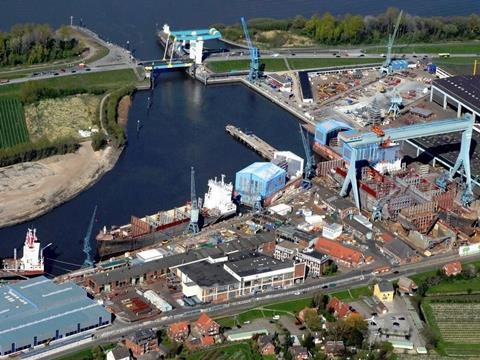 Receiver Achim Ahrendt said there had been talks with more than 150 potential investors since mid August and that some offers for the Elbe facility – Germany's oldest shipyard dating back to 1635 – had been made.
However Russia's Pella Shipyard in St Petersburg, which owns Pella Sietas, was not willing to invest more money in the yard, Ahrendt said. He added that "none of the investors could, or was prepared to to take over existing (ship) contracts under the conditions already agreed to". The search would however continue Ahrendt said.
The ships referred to include the €100 million, 119.8 x 27.5m ice-breaker ordered by owners Pella Shipyard for delivery in 2023 and described as the biggest of its kind ever ordered in Germany.
They also include the 133m x 23m trailing suction hopper dredge Osteriff for Germany's governmental Waterways and Shipping Agency (WSV).
Originally priced at €95 million and for delivery in 2018 that impressive newbuild was at last word berthed at the giant Blohm +Voss ( B+V) shipyard in Hamburg after being moved from Pella Sietas in a complex operation delayed for a year by silt-buildup. Reports have said €80 million has already been spent on its construction.
The WSV told Maritime Journal in August that further construction was being co-ordinated by those involved. But no further WSV comment has been received since B+V yard owners Lürssen announced in early October that B+V would no longer build or repair commercial ships.
Reports elsewhere said an order with Pella Sietas for a 74.3m double-end island ferry for German operator Reederei Norden-Frisia had already been cancelled. And an order for an LNG fuelled ferryship for southern Germany also appeared stymied. Originally due for delivery in 2020, that still unfinished ship was reported still berthed on the Lake of Constance.