They may both be from the same design houses but two recent Sanmar tug deliveries are very different in their configuration, demonstrating the Turkish shipbuilder's flexibility combined with series production.
Sanmar Shipyards' online catalogue contains three conventional twin-screw tugs ranging from the 14.95m Göksu and 16.29m Gökçay class to the 19.3m Bozçay variant, but its ASD and tractor designs occupy the greater ranges and popular choices for the shipbuilder's clients, many of whom are returning customers.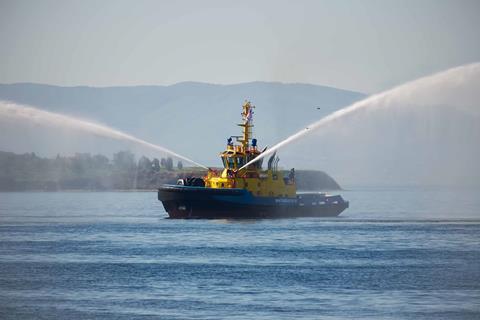 Chile-based SAAM Towage recently received its fifth Sanmar vessel, the Bigaçay class ASD tug Mataquito II, and follows Boğaçay class tugs Halcon III, Albatros, SAAM Valparaiso and SAAM Palenque, delivered between 2020 and 2022. As is standard with Sanmar-built tugs, SAAM's latest arrival carried its class name and number Bigaçay XII during construction before being renamed Mataquito II, and is a Sanmar-exclusive Robert Allan Ltd (RAL) designed RAstar 2900SX.
Principal dimensions include length overall 29.4m, moulded breadth 13.3m, moulded depth 5.5m and maximum operating draught 6.30m. Tank capacities include 160m3 of fuel oil and 18.6m3 fresh water. Classed by ABS, Mataquito II meets the notation: ✠A1, ✠AMS, Towing Vessel, Escort Vessel, ✠ABCU, FFV1, UWILD, QR, Unrestricted Navigation.
Design details
Main propulsion is from Caterpillar, comprising two IMO Tier II compliant 3516C marine diesels, each developing 2,525kW at 1,800rpm. The engines drive Kongsberg US 255FP azimuth thrusters and deliver performance figures of 80tbp and free running speed ahead 13kn.
Mataquito II benefits from RAL's "radical" sponsoned hull form, which Sanmarsays "has been proven to provide significantly enhanced escort towing and seakeeping performance". With accommodation for up to eight persons, the vessel is intended for multipurpose duties, and as well as towing it is equipped for firefighting, pollution response support and salvage operations within a port.
Ruchan Civgin, Commercial Director, Sanmar Shipyards, said: "We are delighted that SAAM Towage has once again turned to us to provide them with the powerful, agile and highly manoeuvrable tugboat they need. At Sanmar we pride ourselves on being able to tailor the design, construction and outfitting of our tugs to meet an operator's individual needs."
Second delivery
The second Sanmar delivery is for a domestic customer involving a vessel of a different design being a thruster-forward tractor tug configuration. Safi Maritime Services' new addition was built under the name Deliçay 12 before taking up its new name of Safi-14. It may be a different design but there is an uncanny similarity to SAAM's previously mentioned delivery in that the tug is also the customer's fifth Sanmar-built vessel and follows the RAmparts 2400SX (Boğaçay class) tugs Bedia Safi and Celal Safi, delivered in 2016, and the 30tbp twin-screw conventional design tugs Sanmar XXX and Sanmar XXXI delivered in 2012 and 2011 respectively.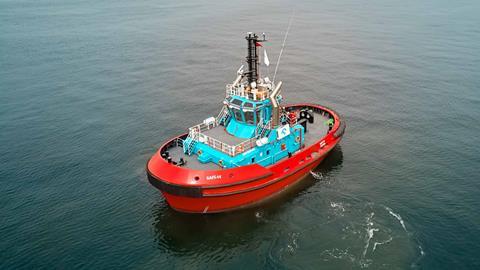 Safi-14 is another Sanmar-exclusive design from RAL, designated the TRAktor-Z 2500SX, described by Sanmar as being "designed for maximum efficiency in both harbour shiphandling and towing duties". With a bollard pull of 74t it is also the most powerful tug that Sanmar has delivered to the expanding port.
The 25.3m long vessel has a moulded beam of 12m, least moulded depth of 4.46m and approximate extreme draught of 6.55m with tank capacities quoted as 89,300 litres of fuel oil and 12,300 litres of fresh water.
Power is derived from two high-speed, electronically controlled Caterpillar 3516C HD D marine diesel engines, each producing 2,100kW at 1,600rpm. On board power is provided by two identical Caterpillar C4.4 diesel gensets with operating frequencies of 50Hz, continuous service ratings of 99ekW and output voltages of 400 volts.
Safi II meets fifi1 standards with its one main fire pump driven through a clutched flexible coupling aft of one of the main engines producing approximately 2,700m3/hr of water. Classed by ABS, Safi-14 carries the notation: ✠A1, Towing Vessel, FFV1, AMS, ABCU, QR, UWILD, BP74.01, Unrestricted service.
Ali Gurun, Vice President of Sanmar Shipyards, said: "We are delighted that Safi Maritime Services has chosen us to provide it with the strong and powerful new tug it needs for its expanding business. It is always good when a client comes back for more and we are proud to be a partner in its ambitious plans for the future of this important port.
"Safi-14 is a fine example of our new generation of modern tugboats that can be designed and built to match the specific needs of individual operators."