One of Germany's busiest and smallest, passenger ferries has marked thirty years of non-stop commuter service navigating the busy, big-ship Kiel Canal – the busiest man-made waterway in the world.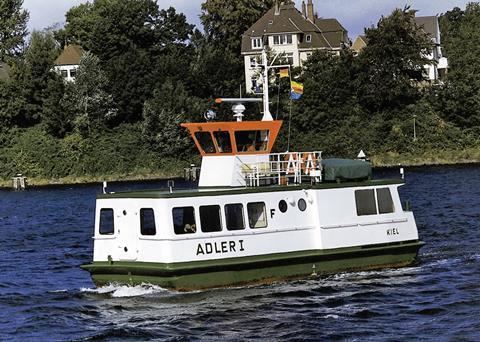 Affectionately known as the "shoe-box" by the regulars and visitors who have used it daily, the 13.5m loa and 4.6m wide Adler 1 has made the three minute crossing 124 times a day carrying up to 49 passengers and two dozen cycles on each three minute trip.
The boat was handed over on June 22nd 1984 by the then Husumer Schiffswerft to island ferry operator Kurt Paulsen, later Adler Schiffe. It was chartered to the waterways and shipping office (WSA) in Kiel for ferry service between Kiel Holtenau and Kiel-Wik on opposite Canal banks at the Baltic end of the waterway.
The small workhorse has done that job almost daily ever since, retiring just recently, and has expertly navigated among the more than 30,000 often much bigger vessels, including many cruise and container ships, which regularly use the Canal. For a short period in 1989 it stood in for the transporter bridge ferry in Rendsburg, half way along the 98 km waterway, which links the North Sea and the Baltic.
Mathias Hoffman, captain of the boat for six years, said 3,000-4,000 people used Adler 1 every day in summer and up to 1000 a day in the winter. He said it was "like sailing a bath tub!".
Adler 1 was converted to one-man operation at the Gebr. Friedrich Schiffswerft in Kiel in 2002 and returned there in 2009 for three weeks while the Kiel-Wik ferry landing was repaired after fire damage.
The boat's latest yard stay was in January this year. Adler Schiffe spokeswoman Juliane Nissen-Hünding told this correspondent at the time the ferry docked at the Saatsee Werft in Rendsburg for repairs when its Jastram RP3 propeller developed a sealing problem.
Adler 1 draws a metre and has a single six-cylinder MAN Diesel of 118 kW providing a top speed of 8 knots.
It is the smallest of 26 ships in service with Adler Schiffe. Based in Westerland on the holiday island of Sylt the company is the biggest operator and charterer of excursion ships on the German North Sea and Baltic coasts.
The operator's largest ships include the 111 year old 51.6m side paddle steamer Freya, built in Holland in 1905. That steamer joined Adler Schiffe in 1999 and now operates excursions along the Kiel Canal and on the Elbe carrying up to 250 passengers.
Another prominent Adler ship is the 53.6m event ship Koi - the former Adler Dania. Converted into an excursion ship for 550 passengers in 2014, its original two MWM TBD 602 V 12 Diesels were retained.
By Tom Todd