Sembcorp Marine has built the first of three new battery-operated RoPax ferries for Norwegian ferry operator Norled.
All three are based on a design from LMG Marine, a Sembmarine subsidiary, and have been optimised to Norled's specific requirements for energy efficiency.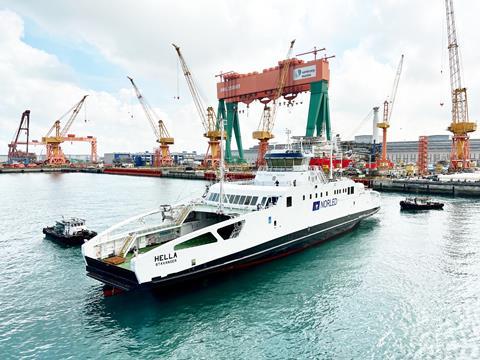 "To serve efficiently as a ferry vessel, the design took into consideration the vessel's operational profile and schedule, as well as design imperatives of passenger safety and comfort, and conducive working conditions for ferry staff," said Tan Heng Jack, Sembmarine's head of specialised shipbuilding.
The 82.4m ferries feature quick connection shore charging plugs, auto-mooring and efficient hull, propulsion and heat recovery systems.
Normal operation will be courtesy of the zero-emission lithium-ion batteries for a service speed of 10 knots, but a switch to diesel back-up is possible if required.
The batteries will be recharged using hydroelectric power.
The multi-deck, double-ended ferries, each with a capacity for 300 passengers and crew as well as 80 cars or a combination of up to 10 cars and 10 trailer trucks, will service Norled's shortsea Hella-Vangsnes-Dragsvik route in Norway.
"The demand for passenger ferries is anticipated to increase owing to a wide range of factors including the emerging trend of ferries as a viable alternative transport, development in marine fuel technologies, and inclination of consumers towards luxury marine travel," said Wong Weng Sun, Sembcorp Marine president and chief executive.
The remaining two RoPax ferries are expected to be ready in 2022.