UK-based Silverstream Technologies is celebrating the commercial success of its Silverstream System, an innovative air lubrication technology aimed at helping the marine industry reduce its emissions footprint.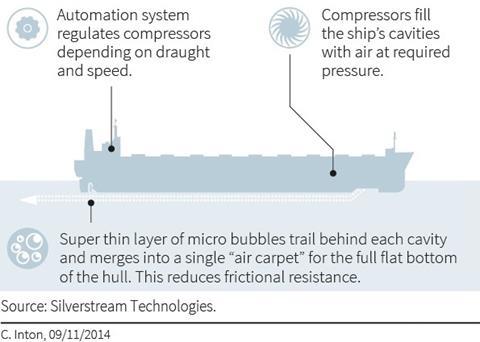 The British company believes the key to its success is ensuring industry confidence through a rigorous and independent trial process backed up by verifiable and unimpeachable data.
On the back of high fuel prices of two years ago, and a demand for increased operational and environmental efficiencies from charterers, there has been a surge in clean technologies entering the market.
However, with industry concern that manufacturers may be making spurious claims about the benefits of their technologies without the corresponding scientific backing, ship owners have been sceptical about the efficacy of clean technology.
Silverstream believes it has proved the benefits of a rigorous and independent process following the success of its landmark sea trial with Shell. Conducted in collaboration with leading industry stakeholders, including the Lloyds Register Ship Performance Group, Dannebrog Rederi, and other technology partners, results from the trial validated the Silverstream System and confirmed net efficiency gains of over 5%.
Since the conclusion of the trials early last year, market confidence in the credibility of the SilverstreamSystem has risen and commercial uptake has been significant; its first contract was with Norwegian Cruise Line, installed at the Meyer Werft yard in Germany. Since then Silverstream has developed a rapidly growing pipeline spanning both new builds and retrofit projects for some of the world's leading shipping lines.
With shipping under pressure to reduce emissions and improve its sustainability, clean technologies are going to play an integral role in delivering this. If a framework for emissions reduction is created by IMO, clean technology manufacturers must also take responsibility for ensuring that what they claim is proven.
By Rebecca Strong