Germany's Niedersachsen Ports (NPorts) has completed two small quay renovations while stressing the importance of such maintenance projects for port futures, reports Tom Todd.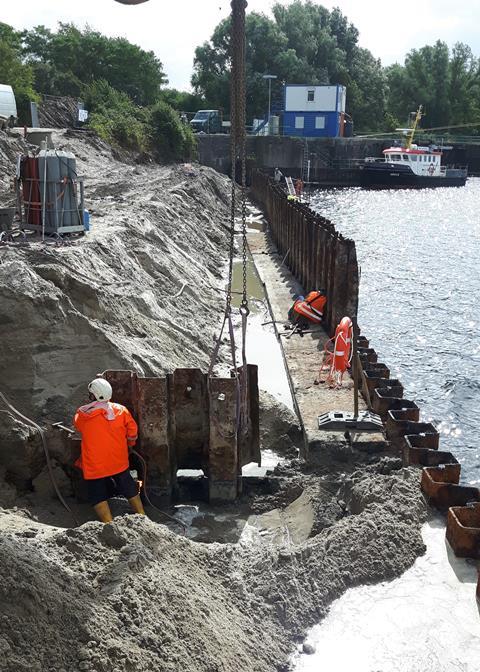 Completed in the port of Wilhelmshaven was the three-month renovation of the Millionensteg - an old 75m back-anchored pile wall jetty. The project, to secure site stability and road traffic safety, was carried out by local firm Thieling Bau in Stadland on the Weser.
It mainly concerned the upper part of the existing badly-corroded sheet pile structure which was cut away to normal harbor water level. On the land side, an armour stone embankment was created and secured with a partially moulded deck cover. NPorts said the submerged part of the sheet wall was in good condition and did not need renovation.
The cost of the work, just one small part of a Port Development 2025 concept, was just €200,000. NPorts Managing Director Holger Banik said however: "Even smaller maintenance measures such as these are important for our port operations".
NPorts owns, operates and manages port infrastructures in five major German seaports, including Wilhelmshaven, seven island supply ports and three regional ports on the German North Sea. The deep water port of Wilhelmshaven is one of the three biggest cargo handling ports in Germany and the home of the country's only deepwater container terminal - Jade Weser Port.
The second completed NPorts project is in the vehicle and RoRo port Emden where the nine-month renovation of some 300m of quayside in the Industriehafen has cost a reported €2 million.
Now above water is a stone embankment which, together with materials below the waterline, total some 8,800 tons of stone bulking, NPorts reported. Also now part of the structure is a 3,000 m2 geo-textile separation layer securing and protecting the embankment and its base, as well as a 300m row of pilings and a 35m wing-piling wall.
Prior to renovation, an old heavy-duty wall from 1910 was dismantled and old piling structures and 500 wooden pilings were removed.
The work had to be undertaken because of the collapse of 50-60m of quay and instability caused by the ravages of time and infestation of wooden pile structures. Now "shipping traffic in this port area can flow safely and unhindered again", said Holger Banik.