US-based Brush Research Manufacturing says its Flex-Hone Tool, played a small but important, role in one of the largest engineering feats in marine history – the raising of the shipwrecked 'Costa Concordia'.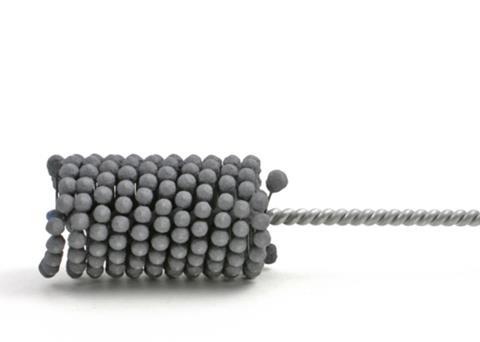 This finishing tool is characterised by its small, abrasive globules that are permanently mounted to flexible filaments. The manufacturers claim it has long been used for everything from automated metal finishing to maintenance and repair operations.
The endeavour to raise the Costa Concordia enough to move it, involved a series of complex steps, several of which had not been attempted in decades.
Part of the plan was to weld steel sponsons to the hull of the ship, but also to join them together to form "one single, robust, stable body," similar to one integral floating chamber. For this, male and female "joints" were attached to each container so they could be connected to each other. A tubular frame would then be run through each of these joints to attach all the containers together. Hydraulic pistons within the tubes would pressurize the system to further hold the tanks together as one unit.
Since it was not possible to introduce a single tube more than 100 metres in length, the engineers decided the best solution was to start with a small section of tube approximately 2 metres long and push it through the first male/female joint. Then another section of tube would be welded to the first, which would be pushed through the joints a little further, and another section welded, and so on.
To remove the excess material from the welds as they were created – both on the interior and exterior of the tubing – Micoperi required a tool that could remove the excess material and worked on an industrial hand-held drill.
For assistance, Micoperi contacted Vogel, an Italian distributor of machine tools, industrial equipment and metals. Among its offerings is the Flex-Hone from Los Angeles-based Brush Research Manufacturing.
"Micoperi called us and we discussed whether the Flex-Hone Tool could be a solution for its problems," said Sven Pilling of Vogel. "During the discussion, we determined that only the Flex-Hone was suitable. Other tools, like abrasive nylon brushes, would not guarantee enough stock removal."
The Flex-Hone served another important function by smoothing the way for the hydraulic pistons that were introduced into the tubes.
"In order to allow a smooth movement of the pistons and in order to avoid leakages, the internal tube walls were cleaned and polished successfully with the Flex-Hone," said Pilling.
The tool can also be used for cylinder refinishing of big bore (up to 40-inch diameter) diesel main engines of large vessels as well as smaller diesel generators.
By Jake Frith