According to IHS Markit's newly published International Dredging Directory, industry uncertainty has temporarily reversed the trend for ever larger dredgers.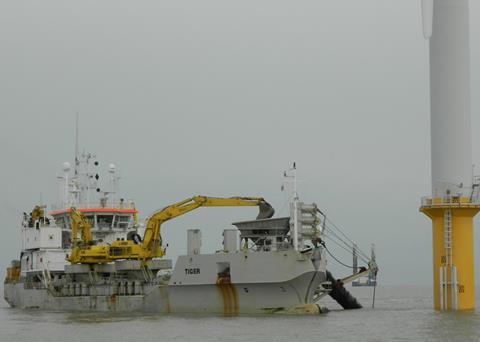 The COVID-19 pandemic presents challenges to the dredging and marine civil engineering industry, with uncertainty over new contracts for big capital projects and thus, the need for powerful and large vessels. This is reflected in the types and number of orders made in 2020. Five vessels have been ordered - all trailing suction hopper dredgers (TSHD) - signalling a decrease in orders for 2020 compared to previous years, according to the newly published International Dredging Directory.
In terms of size, the TSHDs range from small to mid-sized vessels based on IDD-criteria, which means no vessel was ordered with a hopper capacity over 8,000m3.
Taking additional orders from before 2020 into account, 30 dredgers with IMO numbers are under construction in total, which includes statuses on order, keel laid, and launched. Of those, 21 are TSHDs, seven cutter suction dredgers (CSD), and two water injection dredgers. Only one of those TSHDs has a hopper capacity over 15,000m3, again confirming the trend that fewer large vessels will enter the fleet in upcoming years.
As in previous years, there is a race underway between the Netherlands and China in terms of securing contracts to build vessels. Currently, nine vessels are under construction in the Netherlands and eight in China. Other popular ship building countries such as Romania, Lithuania, and Singapore are also currently working on several newbuilds. One vessel is under construction in each of Brazil, Germany, Spain, US, Croatia, and Uruguay.
Looking at upcoming deliveries, 20 dredgers are expected to join the global fleet in 2021, which signifies a peak compared to 2022 and 2023 with currently one delivery each. This mirrors previous developments, where every five years, we see a spike in vessel deliveries, going back to 2006.
One of them is DEME's hugely-anticipated Spartacus, which will start dredging in Egypt. The other is Jan de Nul's Willem van Rubroeck. Its delivery has been delayed due to the bankruptcy of the original builder Uljanik, Croatia.
Both CSDs are in the mega-IDD-class for cutters with a total installed power of plus 23,000kW and thus will create competition in the market. These upcoming deliveries might also serve as explanation for the lack of new cutter suction dredger orders made in 2020.
By Jake Frith