UK based WFS Technologies and TSC have launched Seatooth ACFM, a wireless smart NDT monitoring solution designed to reduce subsea inspection costs.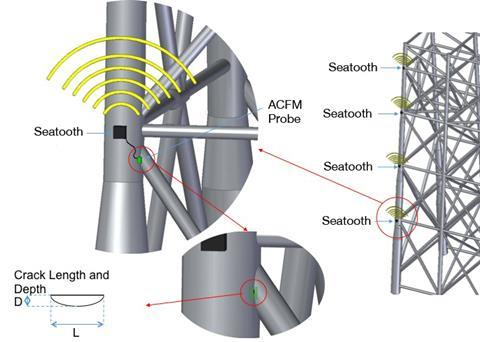 TSC's ACFM array probe is a well-established tool that can be installed on offshore structures to monitor the growth of surface breaking cracks.
"The ability to easily install the sensors to monitor aging assets means that the benefits of ACFM technology can now be offered even in the most challenging of environments," said David Parramore, TSC's engineering and operations director.
Brendan Hyland, chairman of WFS Technologies, added: "Seatooth ACFM delivers substantial cost savings to our customers along with improved quality of information. It is an essential tool for ageing asset management and lifetime extension strategies."
He said that the well established Seatooth system provides reliable communications through seawater and through the splash zone and is immune to biofouling, surface noise and turbidity.
Combining the technologies together, 'Seatooth ACFM' is a non-intrusive, easy to deploy wireless network solution which can be retro-fitted to offshore structures and subsea assets.
Seatooth ACFM units are user-configured to take readings as required, from once a minute to once per month and they can be configured as standalone sensors or within subsea wireless networks.
As standalone devices, information is harvested by fly-by ROV or a diver. When configured as a wireless network on offshore platforms, real-time data is streamed wirelessly through the splash zone to an asset management control station located either on the platform or onshore.
The systems come with an internal battery pack to support between five and 15 years of operation and are installed by light-class ROV deployed off platforms.
By Anne-Marie Causer