Southampton Marine Services has launched its latest vessel, a 23m aquaculture service vessel, at its Ocean Quay shipyard in Southampton UK.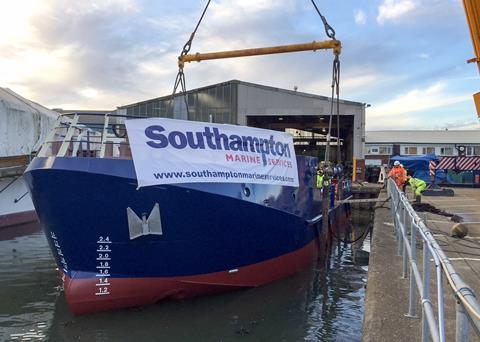 The Alyssa has been built for Scottish commercial diving and marine services company Leco Marine and will be the largest vessel in its fleet.
Designed by Argyll Maritime Design Services, the Alyssa will perform general fish farm work and is equipped with a net-cleaning and inspection system for the maintenance of fish-farm nets.
"The completion of Alyssa marks a proud day for Southampton Marine Services," said SMS managing director, Chris Norman.
"This 23m aquaculture workboat is proof that we are the leading force in quality workmanship. We take great pride in delivering competitively priced vessels on time and to the owner's bespoke specification."
Alyssa is an ideal workboat platform with a spacious aft deck, high stability and excellent visibility of operations from the wheelhouse.
The large deck cargo capacity and deck crane ensures that lifting and transportation of diving gear and net cleaning equipment can be completed with ease. This capacity allows the company to diversify into other fish farm duties should the need arise.
Twin marine diesel Doosan V158TIH engines drive twin 4-bladed fixed pitch propellers via reverse reduction gear boxes. Each engine is fitted with dual station ZF electronic controls from wheelhouse and starboard forward side deck.
David Skea, managing director, Leco Marine, said, "The twin engine design and bow thruster makes her extremely manoeuvrable in and around fish farm cages whilst her shallow draft design will ensure the risk of catching on moorings or fish farm grids is minimised."
Southampton Marine Services was selected as builder following a competitive tender process.
Mr Norman added: "The expansion that we have seen on the back of signing contracts such as Leco Marine's new build means that we now have a 200-person strong workforce and are able to assist in ensuring that UK shipbuilding skills are kept alive."
By Anne-Marie Causer