SMS Southampton has completed a major dredger refit in ABP''s Port of Southampton in the UK.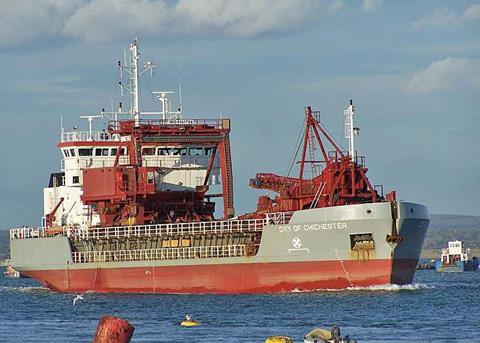 The ship repairer completed the major refit of 'City of Chichester' in the port's Western Docks for the Chichester-based aggregates company Tarmac Marine. The refit was completed in a dedicated, controlled berth alongside at Williams Shipping's berths.
Dave Chaffers, general manager of SMS in Southampton, said: "The package of works was extensive with some significant emerging challenges; that said the team at Tarmac, both on and off the ship, supported the refit tremendously."
Duncan Payne, ship manager at Tarmac Marine Ltd, said: "Given the challenges of the project we're very pleased with the outcome and look forward to future works with The SMS Group."
SMS took ownership of the site, to include permits-to-work and site security, as well as the programme of repair works.
The programme of works undertaken was extensive; to include, but not limited to, the Feeder Hopper refurbishment (completed in SMS's nearby workshops), the Discharge Grab replacement, a routine number of general repairs to the dredge and discharge equipment and a significant quantum of pipework repairs, renewals and bespoke fabrication/manufacturing.
SMS also completed numerous packages of electrical inspection and systems testing.
SMS is a specialist in ship repair, marine engineering and major fabrication projects in the commercial marine, defence and superyachts sectors. The company also operates a diving and sub-surface marine engineering business.
By Rebecca Jeffrey