The UK headquartered ship repairer and marine engineering services provider SMS has completed a major refit at the Port of Southampton for the Isle of Wight operator Red Funnel.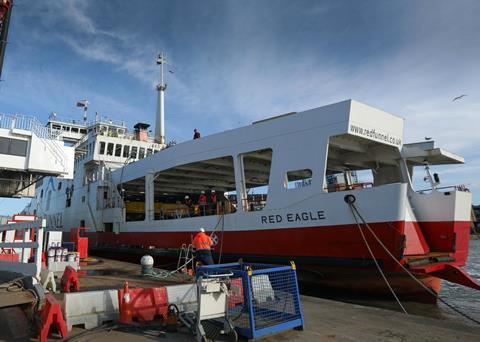 SMS completed the build and installation of two new 17 tonne aluminium passenger lounges onboard the 'Red Eagle' ferry in partnership with its sister co. the Wight Shipyard Company.
"This project is a great example of our in-house capability," said Chris Norman, managing director of SMS .
"Seventeen tonnes of aluminium, over 2500-man hours, and an increase of internal passenger capacity by some 30%. This is a complete turn-key project from newbuild fabrication to onboard installation."
Build programme
The build took around six weeks at SMS's sister company the Wight Shipyard Company (previous builder of Red Funnel's Red Jet 6 & 7) with the installation revolving around key milestones over a four-week period.
Tasks included clearing the decks and fitting the upstand, shipping the units from the Island and fitting them, clearing circa 80% of the two units for the fitout team, completing the window installations and then finally the snagging and client agreed extras.
The fitting of the new lounges and the refurbishment of the existing ones has increased the internal passenger seating availability by 200, to a total of 550 internal seats.
The A Deck lounges now have a much-improved café area at the North End and a new Signature Lounge at the South End, giving commonality across the fleet.
By Anne-Marie Causer