Wilhelmsen Ships Service's new Timm Master 12 Snap Back Arrestor (SBA) acts as an energy absorbing core within the company's Timm Master 12-strand plaited, mixed polymer rope to drastically reduce recoil, or snap-back potential.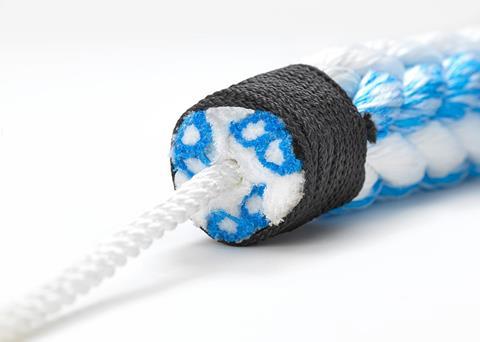 If the outer, load-bearing construction breaks, the SBA absorbs the snap-back forces, transforming them from a potentially deadly snap, to a much safer, slump.
Veronika Aspelund, business manager of ropes at Wilhelmsen Ships Service, said: "The Snap Back Arrestor is a massive step forward in maritime rope safety, significantly mitigating the considerable risks personnel are exposed to during mooring."
Life saving
She added: "Using the same material composition as our best-selling premium Timm Master 8 rope, Timm Master 12 SBA is buoyant, light, reliable, features anti-twist colours and offers one of the best strength-to-weigh ratios on the market. These are all of course great selling points, but the safety element hidden within its core is truly unique and could quite literally be a life-saver."
DNV GL verified Wilhelmsen's SBA solution in 2016. Since then the Timm Master 12 SBA has been exhaustively tested, passing both TCLL testing and OCIMF MEG4 tests, in both dry and wet conditions.
It is produced according to ISO 9554:2010 and ISO 10556:2009 and tested according to ISO 2307:2010.
By Rebecca Jeffrey