A project to add floating solar panels to a wind farm is scheduled to be incorporated into the Hollandse Kust Noord offshore wind farm site by 2025, writes Dag Pike.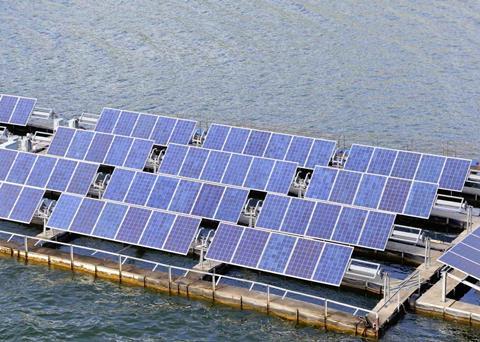 According to TNO, the Dutch organisation for applied scientific research, the research and demonstration of offshore solar energy in the new offshore wind farm will be conducted together with CrossWind, which is a Shell-Eneco consortium that has recently won the tender to build the wind farm. According to TNO, the offshore solar demonstration project will have a minimum of 0.5 MWp (megawatt-peak) of installed capacity and will be added to the wind farm in 2025, which is two years after the offshore wind farm is scheduled to become operational. "The CrossWind project represents a major step towards the future of solar energy generation on the North Sea", a TNO spokesperson said.
The 759MW Hollandse Kust Noord Wind Farm, which is located about 10 miles off the coast of the Netherlands, will comprise 69 Siemens Gamesa 11MW turbines. The solar panels are just part of a long-term strategy to add alternative generating systems to wind farms to help ensure a continuation of power supply when the wind is not blowing. Along with the floating solar panels, Hollandse Kust Noord will incorporate four more technology solutions to ensure this continuous power supply. "These solutions, to be employed at the offshore site as demonstration projects, could be implemented at full-scale in the future," a CrossWind spokesperson said.
These will include plans to equip the project with a short-term battery storage system and green hydrogen production infrastructure as an additional storage solution. The wind turbines will also be optimally tuned to minimise the negative 'wake' effects that wind turbines can have on each other. By adding these systems Shell and Eneco aim to use the combination of these individual measures to provide an uninterrupted power supply regardless of the wind situation.
A consortium led by TNO recently started a research project for floating solar energy systems and partners include the petrochemical company SABIC and Norwegian energy company Equinor. The consortium has selected three companies with promising system designs to help further develop floating solar energy, including in locations with high waves and strong winds.