Spain's Port of Valencia is trialling new solar panels installed on the ground, claimed to be walkable by pedestrians and vehicles.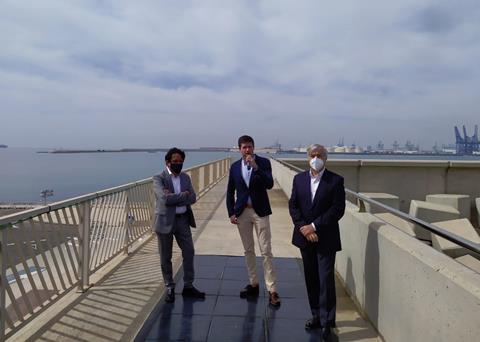 This initiative opens the door to taking advantage of large port spaces to generate solar energy and positions Valenciaport as a benchmark in SmartPorts.
A total of 24 passable solar tiles have been installed on the north dock of the Port of Valencia with a power of more than 1 kWp in just six square metres of surface area, with an energy production equivalent to half the annual consumption of a three-person household, which will avoid emitting 5.7 tonnes of CO2 per year. "It is one more of the bets that we are developing in Valenciaport in cutting-edge technological proposals that provide the site with green and clean energy in our commitment to decarbonisation, while we support entrepreneurship to act as a catalyst for innovation that generates new businesses and opportunities for young talent," explained Federico Torres, head of Ecological Transition of the Port Authority of Valencia.
The solar paving has been developed by SOLUM, one of the start-ups selected by the Port Authority of Valencia (PAV) and the Valenciaport Foundation within the framework of the EIT Climate-KIC Accelerator, which responded to the challenge launched by Valenciaport on innovation in photovoltaic installations in ports and which, on reaching phase 3 of the accelerator, has received financial support of 30,000 euros.
SOLUM's Director of Product and Innovation, Luis Muñoz, indicated that "this solar floor is 100% walkable with a design integrated into the urban architecture that guarantees anti-slip, with regenerative properties and a greater resistance than concrete that makes it resistant to loads, impacts and scratches. The system generates clean energy thanks to the high-efficiency photovoltaic cells integrated in its interior".
This innovative photovoltaic solution can be installed both in pedestrian areas and in areas with occasional traffic. These solar panels are much more resistant to erosion and easy maintenance and, in a place like the Port of Valencia, they also have the advantage of being able to produce energy in areas where a panel could not be installed.
By Jake Frith