A solid future as an "ideal location" for heavy load component handling and offshore services is being tipped for Port Knock on Germany's North Sea Ems Estuary.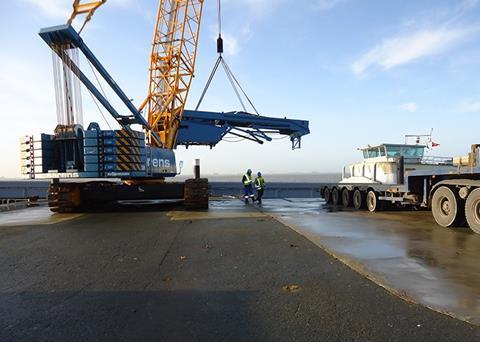 The 240m long and 40m wide Knock jetty facility, just west of the port of Emden, is owned by German shipping, transport and offshore concern AG Ems along with the adjacent Rysumer Nacken coastal land area. AG Ems took them over in 2000 because of their strategically-favourable location for wind farms in the North Sea and because the area is suitable for heavy goods transport and handling.
After five years of phased expansion and reinforcement measures during which the Knock facility has been regularly used by supply and CTVs serving wind farms, AG EMS and its subsidiary EMS Maritime Offshore GmbH (EMO) last year inaugurated an upgraded Port Knock jetty facility. On hand at that inauguration were two of EMO's modern wind farm vessels – the novel catamaran CTV Windea Four and the SWATH CTV Windea Five (ex Natalia Becker).
The 240m long and 40m wide jetty has been raised by 1.2m to 4.2m above sea level to improve resilience to flooding. Its load-bearing capacity has been increased and project loads of up to 400 tons can now be coped with. Water depth at the jetty head is put at about 7m and there is an extended mooring row of up to120m and a total of three ship berths. On shore is a 2.8 hectare area suitable for industry and logistics along with a depot and offices and warehouse areas.
AG EMS has invested over EUR 3.5 million in the Knock facility, which has been used this year by Emden-based Off-Shore Wind Solutions (OWS) to handle large wind farm components.
OWS was commissioned to rebuild two existing on-shore wind energy plants at the Rysumer Nacken and replace their main components. The existing 300 ton turbines, each with six 60m rotor blades, were loaded individually on the jetty and transported by pontoon to inland facilities at the nearby seaport of Emden on floating pontoons with replacement components being shipped back in the same way. EMO provides intermediate storage.
EMO CEO Knut Gerdes said: "Port Knock will in future mainly serve as a service harbour for existing offshore wind farms and provide berths, harbour and free areas for that purpose. This is an ideal place for service companies to settle".
Gerdes added Port Knock was "set to provide the first, vital impetus for the development of the Rysumer Nacken as a location for services. The upcoming challenges in the offshore wind sector mean that the rest will follow automatically, because innovative and efficient port locations close to the wind farm sites are quite simply a necessity"
By Tom Todd