The second of a planned six sophisticated new 28m Class cruisers has gone into service with Germany's sea rescue service DGzRS - and will soon be joined by a third.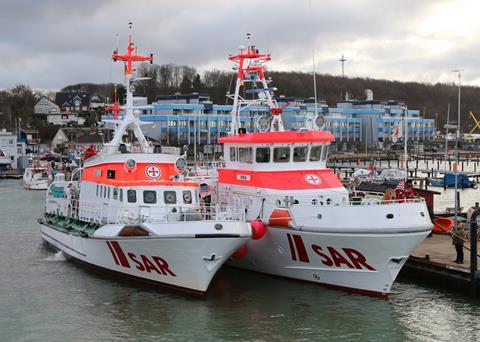 The 27.9m long and 6.2m wide Berlin arrived on station in Laboe at the mouth of the Baltic's Kiel Fiord mid January and was going operational in early February. Laboe gets between 130 and 150 emergency call-outs every year.
Berlin takes over from a namesake predecessor which has also been on station in Laboe and was the lead boat in a series of six 27.5m Class predecessors introduced between 1985 and 1992 and now being replaced.
Described as the most advanced and powerful class in the DGzRS fleet, the first of the new series of Fassmer-built boats, Ernst Meier- Hedde, went into service out of Amrum in 2015 with tender Lotte. The third, SK37, with tender TB 41, will join them in May. It will replace Hermann Helms in Cuxhaven and serve in the busy Elbe Estuary.
The new Berlin (SK36) and its 8.2m long, 2.9m wide tender Steppke were named in December. That's unusual for the DGzRS, which normally keeps boat names under wraps until service. The reason for the change this time was the historical significance of the name and that of the new boat's predecessor.
The new Berlin has a propulsion system comprising two MTU 16V 2000 M72 engines each of 1,440kW developing 24 knots, two ZF 5000D reverse gear units and a slow running system. It also has a 75kW bow thruster. Its tender Lotte is driven by a Steyr SE236 E40 of 170kW.
Berlin's auxiliaries are a Deutz Type 1013 Diesel engine of 88kVA with generator or 120kW with hydraulic pump and a Whisperpower SQ25, 25kVA Diesel generator. Drawing 2m and displacing 120 tons, the Berlin carries a crew of four.
The new 28m design features comprehensive medical first aid facilities and equipment, a water cannon with remote controlled monitor for fire combat at sea and a closed bridge with all-round vision. Like many of its fellow DGzRS boats, it is self-righting within seconds.
As well as the new 28m newbuilds the DGzRS has also ordered two new 20m Class boats plus tenders. The first is for service late this year out of Greifswald and the second in 2018 out of Olpenitz.
Finally ten new 10 m Class rescue boats are under build or on order for the DGzRS at Fassmer for delivery to a number of volunteer stations on the North Sea and Baltic up to 2020. The first two – SRB 66 and SRB 67 are for service from this spring and summer. The DGzRS said they are getting increased performance Cummins engines.
By Tom Todd