Spinlock, a UK-headquartered designer and manufacturer of commercial and leisure lifejackets, recently announced that it has been leading an exciting research and development project with the European Space Agency (ESA).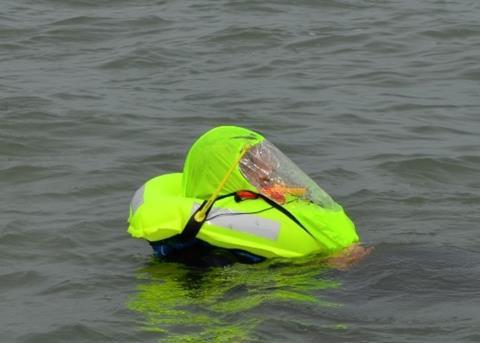 The two-year, €450,000 project co-funded by the ESA has been investigating the development and performance of personal locator beacons in clothing and equipment to improve the distress signals that are transmitted to the geostationary satellite network.
A prototype design was developed by Spinlock to incorporate into a lifejacket. The project has focused on the development of an antenna that delivers a more robust signal, with better strength and accuracy, plus reduces the risk of misalignment or interference – crucial to those at risk in man overboard situations.
Spinlock's CEO Chris Hill explains more about the design: "Many handheld beacons incorporate spring-mounted 'monopole' antennas that resemble a tape measure. Their signal performance depends very much on the angle at which they are held, and of course sharp-edged metal is not a good fit with inflatable lifejackets! As an alternative we have investigated antenna that can more easily be embedded with a beacon. The design and placement of the antenna is fundamental in speeding up the process of saving lives at sea. The location of the victim is faster and more accurate due to the immediate and constant signal emitted."
Spinlock Product Manager Myles Uren adds: "This type of beacon can be integrated into the construction of the lifejacket. The challenge in the design was to ensure we get the optimum performance for the antenna as well as being simple and intuitive for the user."
The prototype design has been put through a full-scale 'live in-water trials' off the coast of the Isle of Wight, with successful results. The international Cospas-Sarsat satellite system, including the ESA-built weather satellites MSG-3 and MetOp-B, picked up the transmission sent out by the antenna within the five-minute framework set, and Spinlock claims, showed improvement over traditional antennas in a direct comparison test.
The work has been supported through ESA's Innovation Triangle Initiative, which encourages the application of breakthrough technologies to the space sector. Peter de Maagt, head of ESA's Antenna and Submillimetre Wave Section, said: "We see a lot of potential in this antenna technology. The companies are working on commercialising this application, and many other uses are also being explored."
Chris Hill added: "It is hoped that the work will lead to a further project, along with finding some development partners to look more closely at putting the ideas into production."
The testing is now complete and the findings will be presented to the ESA at The Hague in November 2016.
By Jake Frith