An impressive lineup of speakers has been announced for next week''s second online session of the Get Set for Workboat 2050 conference series sponsored by Southerly Designs.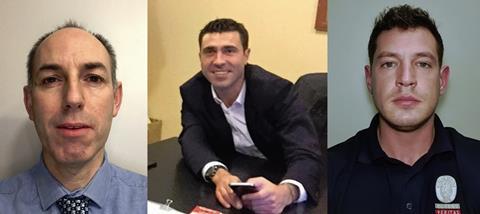 On Tuesday 8 December 10:00-11:00 UTC, the conference focusses on Short term 2020 to 2025: Re-engining & re-fitting the fleet; improved technologies for engine efficiency to decrease emissions including Tier III diesel.
REGISTER HERE FOR THE CONFERENCE (It's free to attend!)
The conference is brought to you by the Commercial Marine Network in association with Maritime Journal, Seawork and The Workboat Association. The Commercial Marine Network is also delighted to welcome the Society of Maritime Industries to the whole five conference series as a Supporting Organisation, and Naval Architect Southerly Designs which has been announced as sponsor for Session 2.
Welcome address: Kerrie Forster, CEO, The Workboat Association
Moderator: Andy Page, MD, Chartwell Marine
CONFIRMED SPEAKERS:
Andy Osborne, Marine Engineering Manager, Port of London Authority
Andy, currently Marine Engineering Manager at the Port of London Authority (PLA), started his engineering career in the 1990s as an electronics design engineer with Marconi Radar. Moving later to the PLA, specialising in marine electronics on both afloat and land-based equipment and projects. Andy later oversaw marine engineering maintenance of a large and varied fleet of vessels. In more recent times, Andy's focus has been on the PLA future fleet and how this can be achieved with green credentials.
Andy will introduce us to the different technologies used across the PLA fleet – as this large and future focussed vessel operator has been trialling different aspects SCR/Hybrid & looking at multiple different options. The PLA is paving the way with a pledge to achieve net zero by 2040 alongside an ambitious air quality strategy.
Cedric Merveillaud, Director – Distribution Sales Marine, Cummins Europe
Cedric Merveillaud is the Europe Sales Director of Cummins Marine with 15 years' experience in the marine industry working alongside European OEMs and shipyards to define and integrate Diesel engine efficient propulsion systems.
Regulatory emissions standards vary from region to region, a challenge for engine manufacturers, ship builders and their customers. IMO Tier III makes no exception to the rule and manufacturers have to decide between reinventing the wheel and making modifications to proven technology in order to meet new regulations. Cummins is taking their proven dual-tier approach used for IMO II engine technology, adding a proven SCR catalyst and giving customers the flexibility to run at IMO III regulated levels when only necessary. As a result, Operators will even have the ability to switch between IMO II and III mid-journey and minimize the associated costs while maintaining the high level of fuel efficiency. Cedric has two case studies to refer to.
Owen Preece, UK & Ireland New Constructions Manager, Bureau Veritas
Owen works for Bureau Veritas - a large IACS Classification society - in both Technical and Survey roles and is UK & Ireland New Construction Manager responsible for all aspects of vessel Survey, Technical work and Certification.
Focussing on sustainable shipping and how Bureau Veritas are involved and working with clients to comply with regulations and improve ship performance across the industry. Owen will give a high level overview and try to focus more on his experience in the UK market and how it is relevant to the workboat sector.
REGISTER HERE FOR THE CONFERENCE (It's free to attend!)
ADDITIONAL NETWORKING OPPORTUNITY
You can now continue the conversation after the session with our new networking opportunity. This allows users access to four hours of dedicated virtual face-to-face networking time for just £27.50 (or €29.50). Benefit from:
* The opportunity to network after the webinar
* Your own personal user profile on the Swapcard platform
* The opportunity to set up your own 1-2-1 Video Meetings with fellow attendees from 11:00-15:00 UTC on 8 December
* Access to the platform until Friday 11 December to contact and export attendees you have engaged with
Over 300 Commercial Marine industry delegates registered for the first session in this series.

BOOK NETWORKING OPPORTUNITY