The newest additions to the Ullman seating range are the Echelon and Sisu, which are specially designed for the Special Forces and were on display at Seawork International.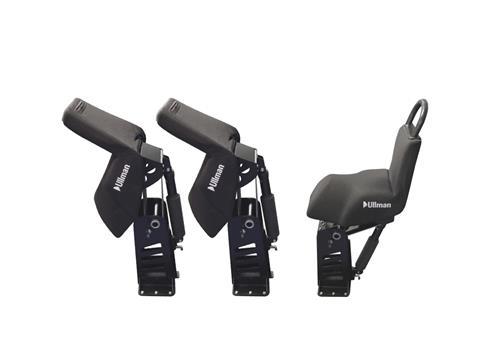 Both new seats were available for water trials at the show.
The Echelon has a very small overall footprint which allows for more space around the seat and a new 3D suspension system which attenuates vertical as well as lateral forces.
It has a low backrest for increased visibility for passengers behind, while seating geometry gives optimal body posture for handling both static and dynamic loads.
SiSu meanwhile is designed to free deck-space to facilitate a range of operational requirements, such as boarding operations or equipment transportation.
Mounted on sliding rails means that even more deck space can be freed up. Further, folded up, the slouching backrest can be used as leaning post for example when holding a boarding ladder.
At Seawork this year, there were a number of vessels on the quayside also sporting seats from the Ullman range
Boats equipped with Ullman seats on the quayside at Seawork International this year included the Damen Rhib 1050 Outboard and Rhib 1050 Inboard, the Goldfish M12 3x400 hp Outboard, Ribcraft's Cabin Boat 7,8m, Open RIB 9m and Open RIB 6,8m.
Other vessels included Maritime Partner's Sjøbjørn, Palfinger's 11m Outboard, Tampa Defence's Tempest 44 Fast Coastal Interceptor and Tideman's HDPE Boats with OXE Diesel Outboard and Inboard version.
By Anne-Marie Causer