Repair and maintenance work on a wide range of workboats into the autumn has pointed up the continuing extensive capability of Germany's versatile Schiffswerft Diedrich.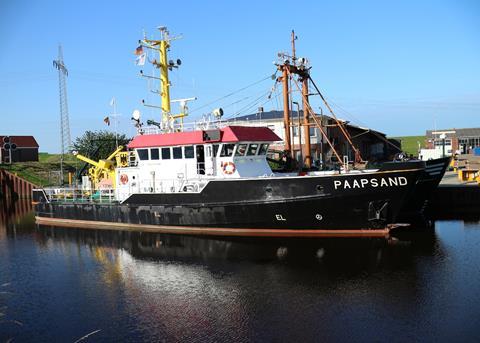 A bunker boat, a pair of mussel cutters and workboats from local authorities have been among the vessels calling of late for largely mechanical work but also routine repair and overhaul.
During the latter part of the year and during the winter months ahead more routine seasonal repair and overhaul work on mainly passenger ferries is likely to occupy the Ems River shipyard. But work to date this year has covered more specialist workboats.
The 32.6m multi-purpose Seelöwe came for hull repair and maintenance as well as inspection of both rudders, bow thruster, propeller and shaft and work on its main engines, auxiliary diesels and compressor. Earlier this year, the boat got a new on-board crane to work in combination with an existing on-board hydraulic dredge and support ramming work and pile transport for owners NPorts, which operates 15 ports and is the largest operator of public seaports in Germany.
Rudder plant repair and overhaul was top of the list during a short visit by another versatile workboat - the 30m survey ship Paapsand which is part of the German Waterways and Shipping Authority (WSA) fleet in Emden just down the road from Diedrich.
Other specialist work at the yard of late has included repair and maintenance on the 44.65m island waste disposal and transport ship Störtebeker for specialist owners Entsorgungsreederei in Norddeich along with conservation and inspection of propeller, shaft, thruster plant and both rudders.
Otherwise, Frisia Offshore's 19.4m wind farm supply and crew transfer catamaran tender Wind Force II spent several weeks undergoing repair and maintenance as well as conservation. The ship also underwent inspection of propellers and shafts, both rudders and its bow thruster plant. The cat was built at Diedrich in 2013 and carries 25 people.
Reflecting an interesting and wide range of custom, the German yard was busy into August with repair and maintenance work on the veteran 38.77m hopper dredger Nora. Diedrich also reported propeller, shaft and rudder inspections, below-surface hull conservation renewal and maintenance work on the ship's main Scania engine plant, auxiliary Diesel and bow thruster. Nora was built in 1941 in Belgium. Even older and reportedly built in 1930 was the 27m, Deutz-powered bunker boat Falderntor, which called for almost identical work.
Fishing vessels are regular customers of Diedrich and two of them, the mussel cutters Charlotte and Anna have been to the yard of late. The 46m Charlotte came for repairs, maintenance, hull conservation and for repairs to its starboard propeller. The 35m Anna underwent partial deck resurfacing and inspection of her life-saving equipment.
By Tom Todd