A specialist man overboard recovery system has been developed by UK boat builder Goodchild Marine Services.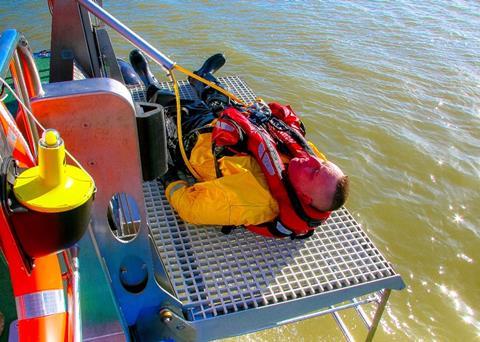 The innovative Man Overboard Recovery Platform was designed to reduce the risk of cardiac arrest in anyone that has fallen overboard by lifting the casualty horizontally.
The system is built on to Goodchild Marine's new ORC 136 pilot boat for Estuary Services Limited, exhibited at Seawork International 2018.
Eleven Man Overboard Recovery Platforms have been built so far, with six fitted on to Goodchild Marine-built vessels.
Others have been sold and exported overseas, as far afield as Australia, with the system becoming one of the company's leading products.
Alan Goodchild, Managing Director of Goodchild Marine in Burgh Castle, near Great Yarmouth, said it was tested and certified for lifting three people and can be lifted to deck level for easy stretcher access.
"This has become one of our bestselling products with widespread interest in the UK and abroad. Key features include an automatically-hinged propeller guard to prevent injury to the casualty, manual back-up and self-cleaning tracks.
"There is also an extension below water level to aid the recovery of a floating casualty. It can be fitted to existing boats or incorporated into a new design. It follows all current legislation, the latest medical guidelines in survivor recovery and can be operated by a single person."
Visit Goodchild Marine's vessels at Seawork International 2018 on berths 39 and 41, and its indoor stand, PB38.