Dutch below-the-hook lifting gear specialist Van Beest is offering a range of subsea shackles and hooks optimised for ROV operations.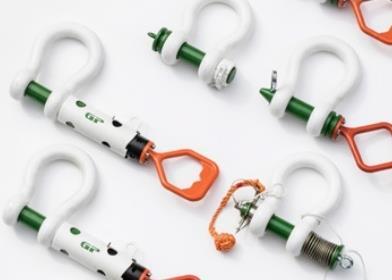 The Green Pin ROV range features two types of ROV hooks designed for subsea lifting: the Green Pin ROV Eye Hook and Green Pin ROV Shank Hook. Van Beest also offers four types of ROV release shackles and two types of combined release & retrieve shackles. Showpieces in this range are the Green Pin Guided Pin ROV Shackle (for release and retrieve operations) and the Green Pin Locking Clamp ROV (Sling) Shackle (for release operations only). ROV release shackles are available with spring pins, locking clamps or spring loading.
Founded in 1922, Van Beest describes itself as the leading manufacturer of premium quality below-the-hook lifting and lashing fittings such as Green Pin Tycan Chain, Green Pin shackles and hooks. Van Beest has 125 employees and branches in The Netherlands (head office), Germany, France, Brazil and USA. The company has stock-holding distributors in more than 90 countries worldwide.
By Jake Frith