A self-propelled, remote-controlled man overboard (MOB) rescue buoy designed for speedy recovery has been showcased at Seawork 2018.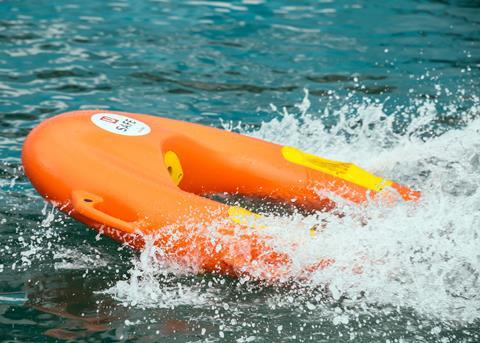 Developed by Portugal-based Noras Performance, the 8kg battery-powered U-SAFE has a range of three miles, maximum speed of 15 knots and can handle up to 200kg, enabling it to reach someone in the water and bring them back to a boat quickly while minimising the safety risk to the rescuer(s).
Miguel Paulo, director of manufacturing at Noras Performance, said: "You don't need any specific instructions. It starts to work immediately after it enters the water. The device lets the person being rescued rest and doesn't put anyone else in danger."
Built-in navigation
The lightweight plastic float has its own navigation and guidance system and doesn't require any training to operate. It also enables those onboard to launch the device without the need to turn the boat around, meaning no time is lost at the start of the rescue operation.
U-SAFE can rescue both adults and children and can be used in any wave conditions. The person operating U-SAFE has to have a sight on the MOB but the speed of the device means they should still be close enough to visualise, assuming the incident is noted straight away. For night rescues this means wearable safety devices with light and sound features are important.
Mr Paulo confirmed that Noras has signed several military contracts and is in testing with other organisations.
"Anyone can have access to U Safe and that's our vision," he stated.
Noras Performance has also established a Technological Partnership Scheme with Volvo Ocean Race for which it will develop new products and technologies for.
Ocean Safety is the distributor for the UK market.
By Rebecca Jeffrey