For boats that work at sea loading and discharging cargoes or equipment, the changing weights on board can affect the stability of the vessel and hence introduce the risk of a capsize notes Dag Pike.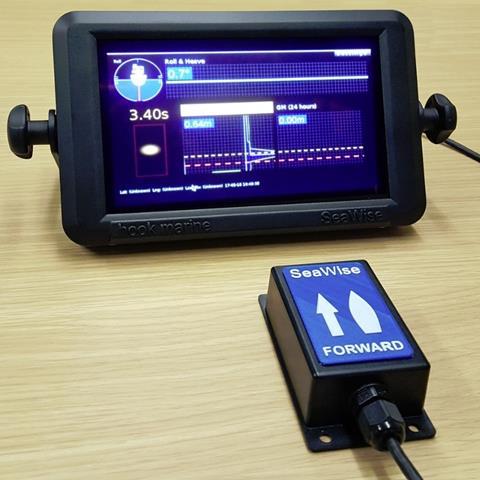 Fishing boats are at particular risk because not only are they adding weight but there is the pull on the gear being towed to consider. There has long been a need for a system to not only indicate when a vessel has reduced stability but also to give the crew some warning.
British company Hook Marine has been working on a solution for many years and has now got to the stage of conducting sea trials on its SeaWise stability monitor. This equipment has been developed to continuously measure the roll period of a vessel during operations. Changes in the roll period are indicative in changes in the vessel's stability but it has not been easy to find the right solution.
Movements of the vessel due to the sea state have to be filtered out and there have been other factors that have to be considered to get valid readings. Ken Smith of Hook Marine commented, "We are now at the end of the development stage and it is undergoing final sea trials and we are looking for interested skippers to participate in these."
The SeaWise unit aims to provide a continuous measurement of the metacentric height of the vessel when it is at sea. The metacentric height is the distance between the centre of gravity and the centre of buoyancy of the vessel and both can change when cargo is loaded or unloaded at sea. With a high metacentric height, the vessel will be very stiff and hence stable with a quick rolling period. When the metacentric height is low the vessel will have reduced stability and have a slow rolling period and it is when this occurs that the vessel can be nearing capsize. So measurements of the changing rolling period can provide an indication of the vessel's stability.
The SeaWise unit comprises a compact box that is attached to the vessel and this is hard wired to a display unit that would normally be pilothouse mounted. This display shows the stability situation graphically and can sound alarms.