Norwegian oil major Statoil and Statkraft have signed a letter of intent that will see Statoil take over as the operator of the Sheringham Shoal Offshore Wind Farm from January 2017.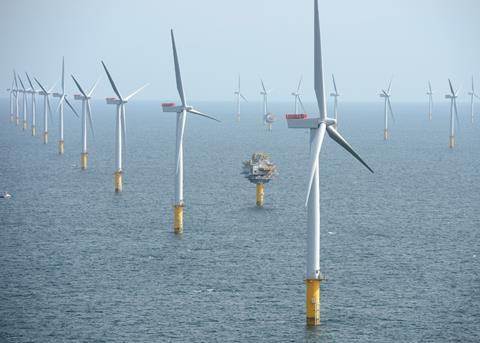 In this same agreement Statoil will also increase its share in the Dogger Bank wind farm projects which will be the World's largest when fully installed.
Currently the Sheringham Shoal wind farm is one of the world's 10 largest producing offshore wind farms providing renewable energy for up to 220,000 UK homes. Located off the coast of
Norfolk, it has been in operation since 2012 and has a capacity of 317 MW.
"Taking over as the operator for Sheringham Shoal represents a milestone for Statoil, as our first operatorship during commercial operations," says Irene Rummelhoff, Statoil's executive vice president for New Energy Solutions. "As operator of both the Sheringham Shoal and Dudgeon offshore wind farms, located in the same area, we can further improve efficiency and increase competitiveness across these projects." Statoil and Statkraft each hold a 40% share in Sheringham Shoal, with the remaining 20% held by the UK Green Investment Bank.
Through this agreement, Statoil is also increasing its share in the Dogger Bank projects, with the desire of bringing Statoil's total ownership from 25% up to a potential of 50% through the acquisition of Statkraft's share in Dogger Bank. Both the final shareholding in Dogger Bank and the transfer of operatorship for Sheringham Shoal is pending partner and government approvals.
Dogger Bank will be the world's largest offshore wind development, having achieved consent for an agreed target installed capacity of 4800MW. In total, the Dogger Bank projects have the potential to provide renewable energy to up to 5 million UK homes.
"Dogger Bank represents a unique opportunity for the UK to develop secure, sustainable and cost-competitive energy from its world-class wind resource. By increasing our share, we strengthen Statoil's long-term portfolio. This is in line with our strategy to gradually complement Statoil's oil and gas portfolio with profitable renewable energy and other low-carbon solutions," says Rummelhoff. The effective date for the transfer of operatorship is 1 January 2017 and the closing of this agreement is subject to both partners' and government approval.
This announcement comes as Statoil opens an onshore base for the Dudgeon offshore wind farm at Great Yarmouth. In total, the Sheringham Shoal and Dudgeon sites are creating 85 jobs in the Norfolk area.
Statoil is becoming a leading investor in UK wind energy with this new expansion and its involvement in the Hywind pilot wind park located offshore from Peterhead in Aberdeenshire, which will be the world's first floating wind farm.
By Dag Pike