Clyde-steamer 'TS Queen Mary' is to be towed to Glasgow, (Scotland, UK) for the first time since 1977, where she will stay over the winter, thanks to a deal struck with Glasgow Science Centre.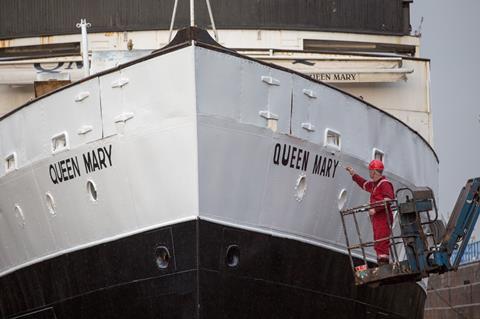 The historic vessel, built near the Clyde in the 1930s, is being restored by a charity patroned by Scottish actor Robbie Coltrane. The charity needed to find a safe place to berth the ship over the winter months as her current home in Greenock is required for other commercial marine work.
The vessel has already had a fresh lick of paint in October and a clean bill of health, as the first stages of work to restore her begin.
Charity 'Friends of TS Queen Mary' rescued the ship from almost certain demise after she was found languishing in a dockyard on the Thames Estuary, several years after serving as a floating bar and restaurant in London.
Remarkably, the 1930s steamship was given a clean bill of health when she was inspected in dry-dock in September.
The inspection highlighted just minor repair work required on the hull, a testament to the skills and engineering talent of Scotland's shipbuilders.
Charity trustee Iain Sim said: "To think just six months ago Queen Mary was languishing on the Thames and now she's been stripped down, carefully inspected, protected with a specialist coating and repainted. She looks bonnie, spectacular, just cracking. Specialists from Dales Marine and paint manufacturers AkzoNobel and Jotun have done a great job.
"Despite all this work, there's still a tremendous amount to be done inside before she can be reopened as an interactive exhibitition and an arts and culture venue. That said, this is a fantastic milestone and we've demonstrated just what can be done.
"We're very grateful to people and businesses across the country for their support and donations — every penny counts in our quest to raise £2 million to restore this wonderful piece of Scottish heritage."
The £2 million fundraising campaign was launched in June by the charity's patron, Robbie Coltrane OBE. The charity has raised £300,000 towards its target so far, enabling this first phase of work.
The steamship will be towed from Greenock to Glasgow in the coming weeks. It will be the first time the ship has been on the Clyde, beyond her most recent docking in Greenock, since 1977.
David McQueen, Director of Finance & Operations at Glasgow Science Centre said: "We are delighted to be assisting the Friends of the TS Queen Mary in their efforts to restore another example of Glasgow and the Clyde's engineering heritage and we look forward to welcoming her to the Science Centre."
TS Queen Mary is expected to remain in Glasgow until early 2017.
By Jake Frith