Finnish propulsion manufacturer Steerprop has won a significant order to supply six of its azimuth propulsion units to a trio of tugs under construction at Turkey's Uzmar Shipyards.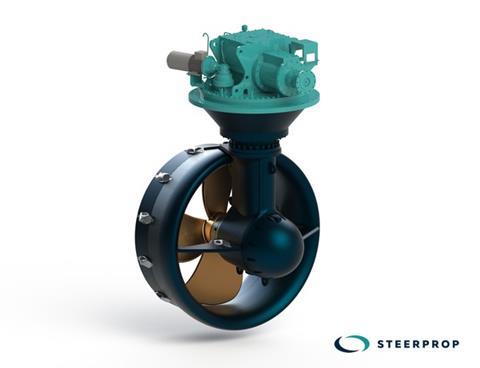 The arrangement comprises six SP 20 WD thrusters to power three Robert Allan Ltd RAmparts 2300 UZM tugs currently in build at Uzmar Shipyard, the units will each deliver 1,610kW of power. Intended to enhance their reliability they will come with Steerprop's condition monitoring system. The contract was signed earlier in 2021 with delivery scheduled for Q3 this year,
Steerprop states that an increase in bollard pull and improved manoeuvrability for the tugs will be achieved with adoption of electrical steering "that enables more efficient use of the main engine's power compared to hydraulic steering" adding: "The agile electrical steering system in our Z-drive azimuth propulsion increases overall performance and reduced the running costs of the vessels."
With an eye to the future, the electrical system can also be upgraded with a battery pack to provide further enhancements to vessel performance and of course lowering the system's environmental performance.
The steering gear is described as 'robust and accurate' offering a constant steering speed claimed to be essential while performing sensitive roles including tanker escort duties. Expanding on this aspect, Donato Agostinelli, sales manager at Steerprop states: "Since the steering uses power only when actively turning, it is very energy-efficient. In addition, the electrical steering also produces significantly less noise than hydraulic steering systems and requires little service due to its mechanically simple construction."
For Steerprop, the contract marks its re-entry into the tug building sector. The company provides automation and electrical systems along with support services in addition to a diverse range of thrusters and is well established in the area of large ice-breakers , Indeed Rauma, Finland-based Steerprop states it has delivered units to every third icebreaker in operation globally.
Recognising the popularity of the RAmparts series tugs, Mr Agostinelli states: "We identified a clear customer need and saw that we could make the necessary changes to our base design in the short time we had at hand. We think this is a great reference to make a re-entry in a segment that is not new to us, but in which we have not been present for a while."
by Peter Barker