Following two positive court rulings the planned new container and ro-ro port at Norvik near Stockholm, Sweden can start construction. Located at Nynäshamn this new port has deep water access and will enable the port to cope with the increase in both container and ro-ro numbers that the port is experiencing.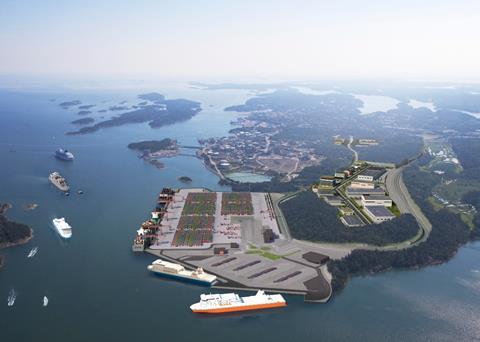 Six months ago the Ports of Stockholm's Managing Director, Johan Castwall, commented, "We are extremely happy with this ruling. In a long process in this significant project for the Stockholm region, transport efficiency and the environment, we have now passed a very important milestone. The ruling means that we plan to start construction within one year." This comment refers to an earlier court ruling and now the Swedish Supreme Court has endorsed the decision so that contraction can start.
Once completed, Norvik will feature a 1,400 m long quay with seven berths. The container part which will feature five berths along the quay will be operated by Hutchison Port Holdings which will move its box business to Norvik from Stockholm's Frihamnen. This container section will be able to handle 300,000 TEU each year in the early stages of operation. With a depth alongside of 16.5 metres it will be able to accommodate the largest container ships alongside. The ro-ro section which features two berths will have an annual capacity of 260,000 cargo units. The total area of the new port will be 44 hectares.
The initial ruling was needed in accordance with the Swedish Environmental Code. However, this decision could be appealed to the Supreme Court and now this court has issued a positive ruling by deciding not to allow permission for an appeal to be heard. This means that construction of the port can begin and is currently underway.
The planned freight port, the Stockholm Norvik Port, just north of Nynäshamn, is extremely important for the establishment of an efficient, eco-friendly supply of goods to the Stockholm region. In accordance with the Swedish Environmental Code, construction and operation of the port required a legal ruling.
Commenting on the recent court decision Castwell said "We are very pleased about the Supreme Court's decision. After a long process in this important project for the Stockholm region, the Supreme Court has issued its final ruling and we can at last begin to build the Stockholm Norvik Port."
"The Stockholm Norvik Port, with its natural depth, short approach lanes and close proximity to the market is an important piece in the goods supply jigsaw puzzle," continues Castwall. It is expected that Ports of Stockholm will be able to welcome the first vessel into port about three years after the start of construction.
By Dag Pike