The old Delftse Shie waterway simply wasn't designed for large, modern vessels writes Stevie Knight.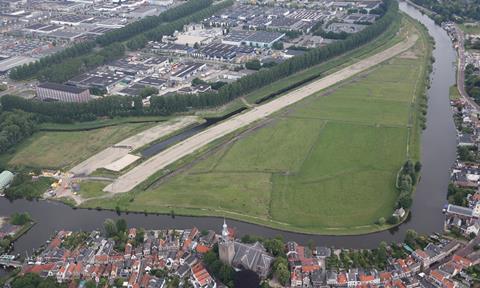 Also the sharp, almost right-angle bends in the section close to Overschie were beginning to present an obstacle to navigation.The typical approach of 'smoothing out' of the banks was untenable as this would mean shaving away a great swathe of land and buildings. So, the questions was, how to make the necessary changes a win-win for everyone?
In fact, the shape did lend itself to creating an entirely new, 800m navigation channel, bypassing the corners.
This, in turn, formed a new triangular island so to make the most of the opportunity the Province of Zuid-Holland hit on the idea of a 'nature-friendly' bank some 1,500 metres in length, including a protected spawning site for fish complete with a fixed bridge at the northern end. More, this would also support the national Water Framework Directive programme and it gave the contractors the opportunity to reinforce three vulnerable areas in the nearby bend.
Work began in October 2016 on the €17.56m channel which was constructed in the 'polder' tradition, formed by building up embankments each side: as the deepest point is 3.5m below water level, only 1m then needed to be excavated.
Unfortunately, here the project hit a snag: the groundwater seep was so saline it required removal before work could progress.
There were some wins though. Given the need for 100,000 tonnes of sand, a cost and environment-saving ideas from the contractors involved reusing contaminated sand, processed by 'grilling' out fuel residues – the main difference being that it's darker in colour and around €4 per tonne cheaper, resulting in a €400,000 cost reduction.
After the walls reached the required height, they were allowed to settle and become firmly integrated with the subsoil.
Following inspection by the Delfland Water Authority, the dykes officially became part of the flood defence system in November 2018, although there will be a careful eye kept on water levels for the next few months to make sure everything is behaving itself before the navigation channel is opened to shipping in early 2019.
The bridge and ecological upgrading of the banks is scheduled for completion in September this coming year.