In the presence of guests and employees, Ms Lydia van de Kerk, the wife of CFO Arjan van de Kerk, named Van Oord's latest cutter suction dredger ''Biesbosch'' during a ceremony held on the jetty at the company's Rotterdam office.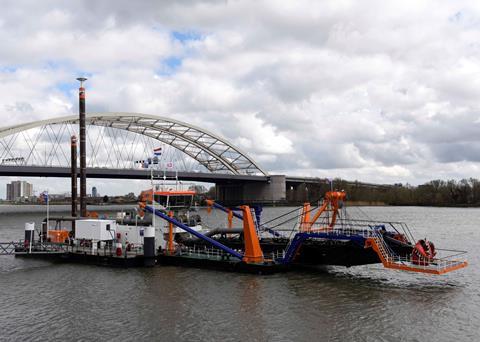 The cutter suction dredger 'Biesbosch' was built by Royal IHC at its yard at Sliedrecht in the Netherlands. The vessel forms part of Van Oord's strategy to modernise its fleet of cutter suction dredgers according to company safety and environmental standards.
The vessel is a modular IHC Beaver 65, with a length of 64m and a width of more than 12m. Van Oord is investing in replacements for its fleet of cutter suction dredgers, with Biesbosch becoming the company's third new cutter suction dredger over a period of twelve months. This accelerated modernisation of Van Oord's fleet of cutter suction dredgers will make a significant contribution to its sustainability programme through fuel efficiency and other environmental benefits.
Biesbosch was deployed immediately for dredging works at the Zeetoegang IJmond project, the construction of the new sea lock at IJmuiden, which is part of the locks programme of the Dutch Department of Public Works. The new, larger sea lock must accommodate increasingly larger ships and thus improve access to the Port of Amsterdam and stimulate the economy in the region.
After nearly a hundred years, the North Lock IJmuiden needs replacing and the OpenIJ contractor consortium is working on a new lock, which is 70m wide, 500m long and 18m deep, allowing it to claim the title of the largest sea lock in the world. Not only does its sheer size make the project challenging but both the road over the locks and the locks themselves must remain freely accessible as much as possible during construction.
The contractor, Consortium OpenIJ, won the tender and started works earlier this year, with the new lock expected to be available for shipping in 2019. Consortium OpenIJ is comprised of the Royal BAM Group, Dutch construction group Volker Wessels, and DIF, an independent Dutch investor in infrastructure projects.
Meanwhile, in Bilbao, Spain, the keel was laid for the first of two new trailing suction hopper dredgers under construction for Van Oord. Ms Carmen de la Barrera, Van Oord's quality control inspector at the LaNaval yard, performed the ceremony.
Underneath the first section, two euro coins were fixed; one with the portrait of King Willem-Alexander of the Netherlands and one with the portrait of King Felipe VI of Spain. Both the Vox Amalia and its sister ship the Vox Alexia will be operational in 2017 and will each have a hopper capacity of some 18,000 m3.
By Larz Bourne