The main shipyard located in Lorient on the West Coast of France that is owned by the large French shipbuilding group, STX France has been put up for sale by its owners. The Lorient shipyard is one on the smaller yards in the STX Group, which embraces six shipyards on the West Coast and it has focussed on the building of specialised vessels up to 130 metres in length.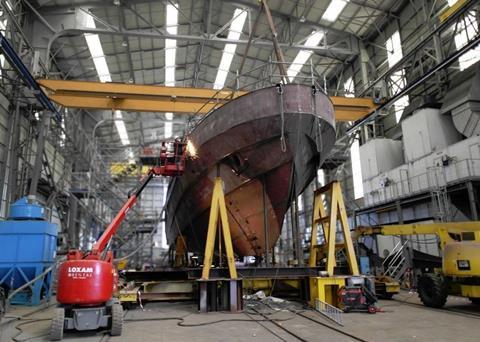 Recognising that this specialised shipyard did not fit comfortably into the structure of the Group which has tended to focus on larger and larger ships including the recently launched Harmony of the Seas, the largest cruise ship ever built, the decision was made to sell the yard. STX is 33% owned by the French Government.
Two bidders came forward to acquire the Lorient yard. One was Constructions Mecaniques de Normandie (CMN) located in Cherbourg which was a competing yard for the size of vessels being built at Lorient but with a greater focus on naval vessels. The other bidder was Kership which is joint venture between the Piriou Shipyard and the state owned naval shipbuilder DCNS. Kership has won the bid to own the Lorient Shipyard which should extend the capabilities of this joint venture.
Herve Guillou, the Chief Operating Officer of DCNS, commenting on the purchase said, "This acquisition would help to strengthen the industrial activity of Lorient and the competitiveness of the French naval industry on the international market. DCNS welcomes the acquisition because it reinforces the consolidation of the French naval shipbuilding industry."
The joint venture company Kership was established three years ago and brings together the expertise of Piriou in the commercial sector and the expertise of DCNS in the military sector. The Piriou Shipyard is located in Concarneau and has expanded from a yard focussing on fishing boat construction to build a wide variety of specialised vessels up to 130 metres in length. It also has a shipyard in Vietnam. The link with DCNS through Kership strengthens this military side of the yard's construction.
DCNS is the primary French naval shipyard with a good export record. It has moved into the construction of renewables structures such as wind farm towers and tidal energy and it also works on the French nuclear energy programme.
Located at the mouth of the river Blavet in Brittany, the Lorient shipyard has operated since 1993 and is capable of producing vessels of up to 120 metres in length with construction under cover. A notable vessel built at the yard was an all-electric ferry which was one of the first to use capacitors for electricity storage rather than batteries.
The sale of the yard is to be completed in the autumn this year, according to STX France.
By Dag Pike