The IMarEST has announced that the fourth European International Submarine Races will take place over a fortnight from 2-13 July 2018, with QinetiQ, a UK defence technology company, as the principal sponsor for the event.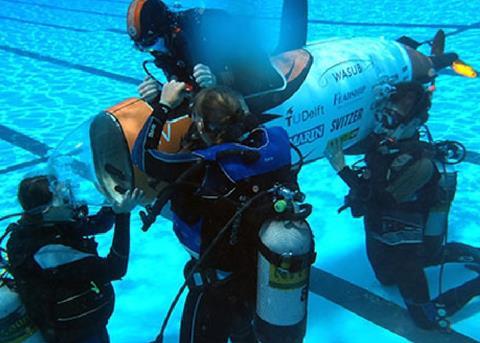 The races are a unique sporting and engineering challenge which involve teams from universities across the world designing, building and racing human-powered submarines around a slalom course at QinetiQ's Ocean Basin, one of the world's largest indoor freshwater tanks in Gosport, UK.
The team from the University of Auckland, New Zealand won the 2016 races with their Taniwha 2 submarine. Professor William Megill, who is the race director and also a professor of bionics at Rhine Waal University, highlighted the strengths of the winning team and their submarine: "They proved that the combination of innovation and attention to detail make all the difference. Their craft was driven to impressive, near record-breaking speeds, by a robust biomimetic propulsion system and a novel fish-inspired hydrodynamically efficient tail which replaced the rudder usually found on submarines."
Some of the university teams that have already expressed an interest in taking part in eISR 2018 include:
* University of Victoria (Canada)
* Rhine Waal University (Germany)
* University of Tehran (Iran)
* TU Delft (Netherlands)
* University of Auckland (New Zealand)
* University of Bath (UK)
The basic rules of the sport are straightforward – teams must design, build and race flooded submarines piloted by a single scuba diver, who must be fully enclosed within the hull of the machine. All propulsion power must be provided by the diver during the race (i.e. no energy storage devices such as flywheels or batteries are allowed), but otherwise the design rules are open to whatever innovation teams decide to use.
The eISR is also about developing real, practical engineering skills. In the funding-constrained university environment, the practical elements of curricula have been replaced with theoretical calculation and computer modelling. A submarine big enough to contain a diver is a real, tangible machine, and the mechanisms have to produce and take real forces. At the same time, the challenge isn't so great that the students can't make the parts themselves - this provides an invaluable learning experience as they see their CAD drawings come to real life.
The IMarEST is an international membership body and learned society that brings marine engineers, scientists and technologists together into one professional body. The largest marine organisation of its kind, it spans 128 countries and works to promote the scientific development of marine disciplines, providing opportunities for the exchange of ideas and practices and upholding the status, standards and expertise of marine professionals worldwide.
Find out more about the races at www.subrace.eu.
By Jake Frith