Applied Acoustics' sister company Modulus Technology has introduced further options to extend the flexibility of its 101G MiniPod submersible GPS receiver that transmits positioning data back to a vessel or the shoreline.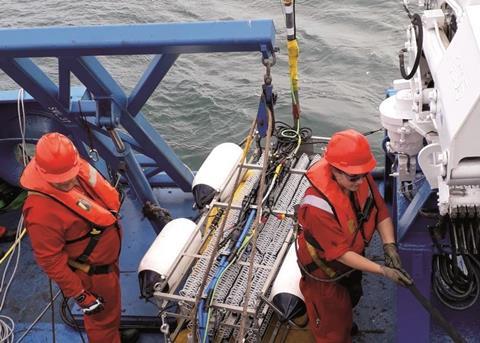 Extra features include a MiniPod with AHRS sensor and a version with the GPS and AHRS sensor combined. Additionally, the system now provides integration of external GPS corrections from the vessel to the MiniPod for increased positional accuracy. The wireless operating range of all units can also be increased from 800m to 2000m with the addition of a further external antenna.
The lightweight, rugged product with integrated antenna provides wired or wireless streamer head and tail positioning, source positioning for 3D UHR seismic operations and is ideal for the positioning of subsea excavation vehicles, or towed sensors such as magnetometers, that operate in shallow waters.
Immersion to 50m
Though designed for operation on a floating catamaran, hydrophone or trencher etc., the MiniPod range will survive immersion to 50m. Each is just 170mm in length and 115mm in diameter, and can be cabled linked to the host equipment for its power supply or powered by an optional external submersible battery pack for up to 10 days operation.
The vessel based, compact, easily integrated wireless receiver unit can receive data from up to four MiniPods supplying a single GPS string at 10Hz refresh rate. Its custom software allows for easy configuration of the received data to merge with standard third-party survey packages.
By Rebecca Jeffrey