Dutch engineering firm Fugro has completed its first fully remote offshore survey in the North Sea, it says
The survey, for Abu Dhabi-based energy company TAQA, was carried out by one of Fugro's Blue Essence uncrewed surface vessels and its Blue Volta electric ROV.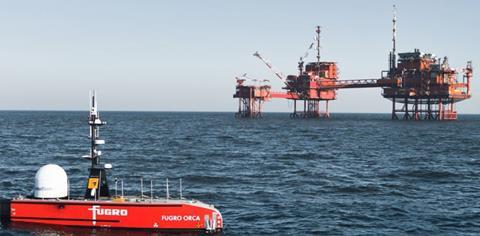 "The complex project, in Europe's busiest part of the North Sea, involved the inspection of two platforms and more than 40 kilometres of pipeline off the coast off the Netherlands," said Fugro
The vessels were hired to inspect the mobility of the seabed, pipeline depth and cathodic protection measurements within a 500m zone 'to ensure the integrity of TAQA's assets'.
Both Blue Essence USV and Blue Volta ROV were remotely controlled via satellite link by operatives at Fugro's remote operations centres in the Netherlands and Aberdeen, the company said.
The project is a sign of the growing trend in remotely controlled vessels for a wider range of applications, enabling staff to work onshore and significantly reducing the risk of offshore environments, It also means clients have access to almost real-time data, which leads to faster and better decision making.
"Fugro is committed to developing new remote and autonomous technologies that will accelerate the transition towards safer and cleaner inspections and more efficient geo-data acquisition," said Fugro regional director of Marine Asset Integrity Gordon Kennedy. "In addition, USVs present an exciting solution for offshore wind farm monopile and cable inspections as well as quay walls and other underwater structures."