The global project to map the entire seabed has received a boost with one of Africa's largest navies signing up to join.
Against the backdrop of the International Hydrographic Organisation assembly on board the 65m MV White Rose of Drachs, which is at the Port of Cap d'Ail in Monaco, an agreement was signed between the Nigerian Navy and Seabed 2030, the collaborative project between the Nippon Foundation and GEBCO to map the ocean floor.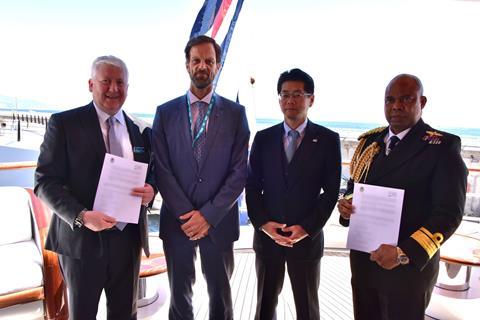 "The Nigerian Navy - among the largest navies on the African continent - brings valuable expertise and resources to the initiative," said Seabed 2030 project director Jamie McMichael-Phillips. "In addition to providing defence services, the navy acts as the sole national authority on hydrographic, charting and tidal matters. With the potential involvement of up to 20 vessels in the Nigerian fleet, the country's participation with the Seabed 2030 project will enable the latter to expand its reach and make great strides in its vital goal."
"The Nigerian Navy is pleased to partner with Seabed 2030 on this ambitious mission," said Rear Admiral Chukwuemeka Ebenezer Okafor of the Nigerian Navy. "We have a wealth of experience in oceanographic research and survey operations, and look forward to contributing to this global effort to better understand - and ultimately protect - the ocean."
Seabed 2030 has done well in recent months with signing up new partners to its venture, and just this month announced that an impressive 25% of the ocean floor has now been mapped.
All data collected and shared with the Seabed 2030 project is included in the free and publicly available GEBCO global grid.