A UK manufacturer of diving and subsea rescue equipment has won a deal to supply its new submarine rescue system (SRS) to the Indonesian navy.
The three-year contract with Submarine Manufacturing and Products includes the design and build of the SRS which centres around the company's new SRV-F Mk3 rescue submersible. It will be hosted on board a mothership designed by Houlder and delivered by its Indonesian partner, BTI Defence.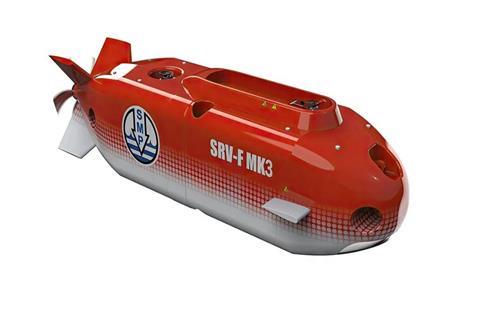 "The market is evolving, and countries operating conventional submarines in regional waters simply do not need complex systems of the massive scale of nuclear navies," said Ben Sharples, managing director at SMP.
"The logistical challenges that come with these larger systems take up time which, in an emergency, we just don't have."
The SMP SRV-F Mk3 is a hybrid system, capable of deployment both by air and on its mothership.
When deployed by air, the rescue submersible can be towed to and from the distressed submarine's location without needing to be recovered to deck, minimising time to first rescue and saving valuable time.
The SRV-F Mk3 can dive to depths of 500m and can carry up to 50 rescuees at a time. Rescues adopt a 'one out, all o ut' philosophy used on conventional submarines, rather than other systems which might need repeated trips to the vessel in distress.
In addition to the SRV-F Mk3, the new mothership is fitted with a suite of support equipment, including a handling system, a transfer under pressure system and a decompression chamber.
SMP has been supported by UK Export Finance throughout the process. "It's fantastic to see UK companies securing a prominent international contract and being supported by the UK government along the way," said Lord Dominic Johnson, Minister for Investment from the UK Department for Business and Trade.
"The programme will not only bring capital to the North of England, but also deepen our collaboration with our Indonesian partners."
This latest deal follows the recent change in ownership at SMP after it was sold to a new shareholder team. The former owner, Phil Connolly, remains chair of SMP.