Netherlands-based Jack Up Barge's self-elevating unit 'JB-117' has completed a crane- and accommodation support contract for General Electric at the DolWin3 offshore power grid connection.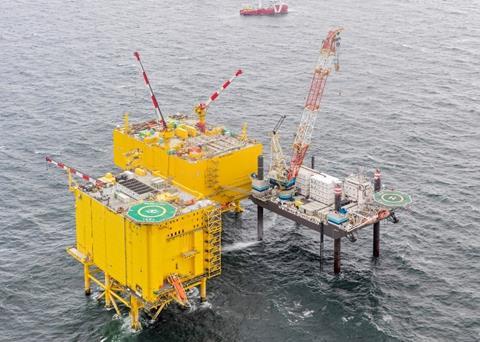 The 75.9-metre long vessel JB-117 was then immediately deployed for continuing operations at the nearby BorWin3 offshore grid connection for Petrofac. For both projects the European electricity transmission system operator TenneT is the end-client.
Representing an important part of the energy transition, DolWin3 and BorWin3 are two elements of the extensive cluster of offshore grid connections that link offshore wind farms in the southwestern part of the German North Sea to the onshore power grid. Both platforms use HVDC (high voltage direct current) technology, and are connected to onshore convertor stations with two 160 kilometre cables, supplying 900 megawatts to German households.
The scope of work for the JB-117 is similar for both projects. In terms of scale, the vessel's crane has a 98-metre long boom. As the DolWin3 project has shown, the sheer size of the crane in combination with its heavy lifting capacity has meant that every part of the substations could be reached.
The DolWin3 project was also substantial regarding accommodation; at peak activity, JB-117 was home to 180 offshore personnel. In addition, Jack Up Barge provided logistical support of stores and personnel.
With its duties at DolWin3 complete, the JB-117 made its way to the BorWin3 location. "This project is where we as an offshore support company can really show our worth. We can adapt quickly to project-specific requirements such as flexible accommodation solutions. What's more, JB-117 can provide true year-round support – staying out for more than a year without having to return to shore if necessary," informs Jack Up Barge Commercial Director Jurgen de Prez.
For Jack Up Barge, these two offshore substation installation support contracts represent important steps with two key clients. "For BorWin3, this will be our first time working with Petrofac – something that we are very much looking forward to," De Prez adds. "And for DolWin3, we are pleased with the cooperation with GE; a strategic partner of ours with this contract as well as future projects they are tendering on."
By Jake Frith