The SMM show was reportedly a great success for Outboard Diesel b.v., holders of the Benelux countries' distributorship for the new OXE Diesel outboard motor.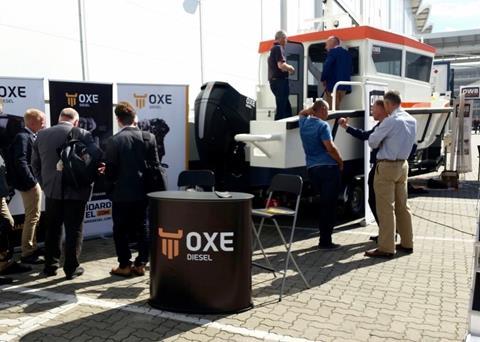 According to Robin de Vries, sales manager at Outboard Diesel, the OXE Diesel outboard could be transformative to the business of operating workboats, especially in the 7-12m range:
"What you get is all the benefits of a diesel inboard engine, but with all the operational advantages of an outboard package. The OXE Diesel is much more comparable to diesel inboards than to petrol outboards. But unlike a diesel inboard, the diesel outboard is quick to swap for another unit if damage occurs and it allows much more deck space in the boat. It is also much easier to service, with all service points forward facing and freely available by simply unclipping the cowl. An added benefit is that on the OXE the final drive ratio can be easily changed from torque to speed or back, meaning a single unit could work one week on a displacement workboat, and the next week could serve time on a planing hull."
Chatting to De Vries, it's clear that he is a real evangelist for this fast emerging technology. The OXE Diesel engine was displayed in one of SMM's few outdoor locations on the back of a DutchWorkboats Fast Survey Boat 7.50 with separate generator and single moonpool.
Production of the OXE Diesel has just started at the Cimco Marine AB factory in Sweden in July, with full production on course for later this year. Outboard Diesel reported "considerable expressions of interest", with clients crunching their numbers for single, double and triple units enquiries.
By Jake Frith