A project to engineer, supply and install a retrofit subsea cable protection system (CPS) for an HVDC grid connection has been successfully completed by a major consortium.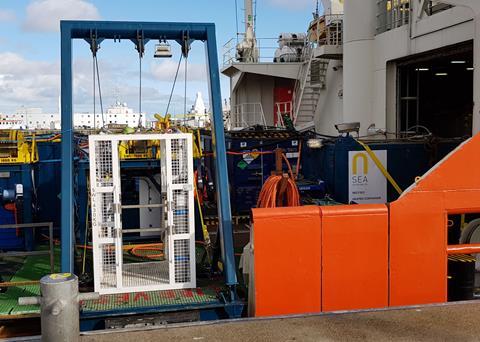 N-Sea Renewable and Utilities Services (N-Sea RUS), part of N-Sea Group, based in Dordrecht and Aberdeen, as part of a consortium with SeaRenergy Offshore Holding GmbH & Cie. KG based in Hamburg and Den Haag, carried out the project for TenneT.
Johann Philipp, head of engineering at SeaRenergy, commented: "We are pleased to have been able to successfully complete the retrofit of the cable protection system together with our consortium partner N-Sea. It has been a challenging project due to the tight schedule for engineering, fabrication and installation works."
Scope of project
SeaRenergy provided engineering services, developed the installation procedure, and assisted in obtaining the necessary approvals.
N-Sea were responsible for the project management, procurement and installation of the CPS, including the supply of equipment, project personnel and vessel chartering.
The retrofit installation needed to be performed subsea by divers under difficult weather conditions, but be as efficient as possible, to minimise downtime of the client's grid access system.
SeaRenergy field engineers were present during the complete offshore operation to support the successful installation in accordance with the manufacturer, client and BSH requirements.
The project required a collaborative way of working with the operator to ensure the correct solution was found and to secure the asset's integrity before the winter season. The consortium faced time and COVID-19 challenges and restrictions. Moreover, the installation had to be performed during running operations to minimise the shutdown time.
By Rebecca Jeffrey