Australian naval architecture company Incat Crowther has announced the delivery of 'Wavelength 4', a 19m aluminium catamaran tour vessel claimed by its operator to be "the cleanest tour vessel on the Great Barrier Reef".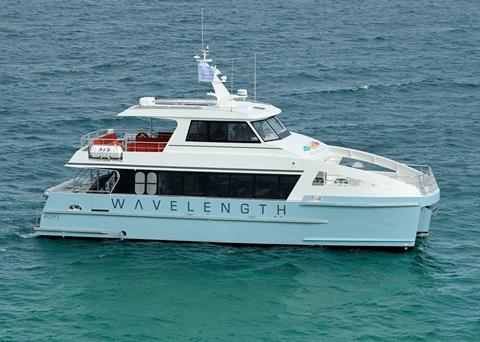 Built by Aluminium Marine in Queensland, Australia, Wavelength 4 features Incat Crowther's efficient hull form and boasts numerous environmental features. The green approach was practical, focusing on a low environmental cost of producing and operating the vessel rather than emerging technologies.
In addition to the reduction in fuel usage that comes with the hull form, the vessel utilises LED lighting and solar panels. The Yanmar engines are Tier 2 rated and among the cleanest burning engines available. The vessel operates on the basis of zero emissions whilst out on the reef, with the generators not required. This is aided by increased natural ventilation.
The toll of production was lowered by the implementation of solar power at the yard, local build to reduce delivery distance and use of recyclable materials, in addition to the elimination of anitfouling.
Wavelength 4 is powered by twin Yanmar 6HYM-WET main engines, outputting 478kW each. She is capable of a maximum speed of 29 knots.
By Jake Frith