Fire services in Germany's busiest seaport, themselves under fire, are to get the biggest boat in their history – with others to follow – after approval of a 40m newbuilding costing €16 million.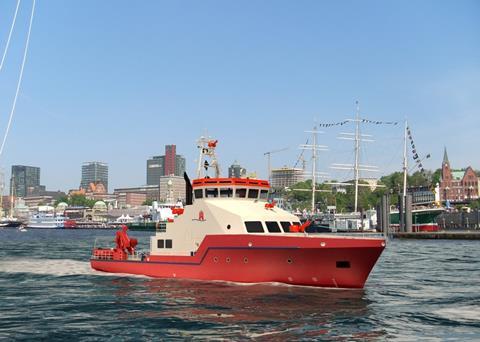 Hamburg Port Authority (HPA) ordered the latest state-of-the-art fire-combat boat for service from early 2018. It is being built at small ship specialist Fassmer Werft on the Weser and the contract follows a Europe-wide tender process.
HPA said it has also decided to have the boat fitted with eco- friendly emission technology – unspecified at this point but in keeping with its current newbuilding programme – and added it will conform to the standards laid down for Germany's coveted Blauer Engel environmental award.
The keel of the new boat will be laid early next year and it is expected to go into service a year later in early 2018. It will, HPA reported, be 10m wide, draw 2.8m and have a crew of 2-4. It will also carry up to 32 fire-fighting personnel on board and have a built-in emergency safety facility.
It will boast three water cannon and three combined water and foam cannon with a maximum throwing distance of 180m - about triple the distance capability of existing Hamburg fireboats – and a throwing height of 110m – some four times the capacity of current boats. The new boats' pumping capacity is 100,000 litres a minute – some eight times that of the current boats.
HPA spokeswoman Sinje Pangritz told Maritime Journal the newbuilding would have two 447kW main engines from Caterpillar as well as two rudder propellers and two bow thrusters from Schottel along with dynamic positioning. Speed was put at 12 knots.
The HPA also announced the go-ahead for planning of two further multi-purpose fire-fighting boats. Work would begin before the year is out, it said and added that construction of both ships would take place in parallel "to ensure the best possible conformity of all components being installed". The duo are for work in smaller harbour basins and will, reports said, also be capable of operation as tugs.
The new boats are the first in a modernised fire-fighting fleet designed to replace old boats over the coming years and meet changed conditions in the port – including ever bigger container ships.
The order for the new boat now has been under consideration for some time and follows criticism of the port's existing river fire-fighting capabilities and of repeated breakdowns and repairs on existing fire boats which are more than 35 years old.
The latest criticism was in September when the 112,588dwt container ship CCNI Arauco was damaged in a fire at Hamburg's Burchardkai Container Terminal. The ship is now undergoing three months of repair at Hamburg's Blohm + Voss shipyard.
By Tom Todd