London marine freight specialist Walsh has begun removing more than one million tonnes of tunnel spoil arising from the eastern leg of the capital's super sewer scheme.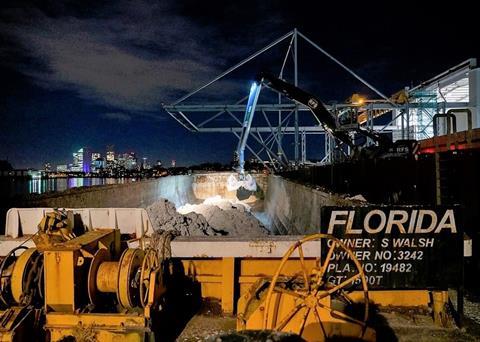 The material coming from Tideway's Eastern section, from Bermondsey to Stratford, is being transported down river to a wildlife habitat creation scheme being delivered by wet civil engineering company Land & Water.
Walsh, in partnership with Land & Water, is carrying out the major muck-shift and restoration scheme – believed to be the biggest project of its kind on the Thames – for Eastern section joint venture delivery partners Costain, Vinci Construction Grands Projets and Bachy Soletanche (CVB).
Over the next 14-months, chalk and clay from Tideway sites at Chambers Wharf, Greenwich Pumping Station and King Edward Memorial Park Foreshore in Shadwell are being loaded onto Walsh river barges for transport to the restoration project at Rainham Marshes.
Joe Gifford, Walsh Managing Director, said: "We're extremely proud to be playing such an important role in the delivery of the Thames Tideway Tunnel. The Walsh marine business is uniquely positioned to move materials to and from major infrastructure schemes that support development and regeneration in London. The fact that we have such a huge capability to move freight by river means that we can add real value to major projects like Tideway, especially when spoil can be put to good use in land restoration elsewhere along the river."
To ensure successful delivery of the project, Walsh made major investments in its marine fleet worth almost £6 million, including the state-of-the-art Damen CS2010 pusher tug SWS Endeavour which went into service at the end of 2020 and the adaptable Damen Multi Cat 1908 SWS Endurance delivered in 2019.
Walsh has already shifted more than 600,000 tonnes of material from other parts of the 25km Tideway project. Another company of the GRS Group, RFS (a joint venture with construction materials producer Aggregate Industries), is carrying out all the spoil handling from Tideway sites onto Walsh barges.
By Jake Frith