London construction services provider S. Walsh & Sons has signed an order for a CS2010 pusher tug from Concordia Damen.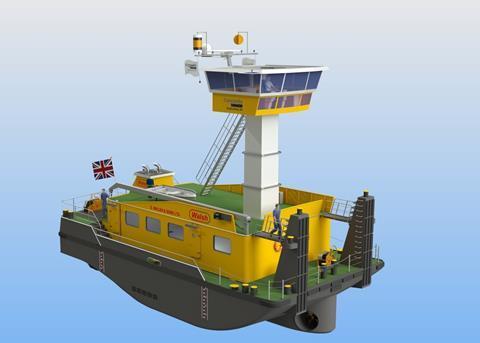 The vessel will join the growing Walsh marine fleet operating on the River Thames in the UK – including the Damen Multi Cat 1908 delivered in 2019. The new vessel will push barges on the river, transporting huge volumes of bulk freight in and out of London. The tug's wheelhouse is fitted to a column that can be raised or lowered as required. With this, visibility during pushing in unrivalled and the air draft can be lowered easily in order to pass bridges.
On delivery it will go straight into action, playing a key role in moving more than a million tonnes of spoil and materials for London's Tideway project – a major infrastructure scheme to build a 25km 'supersewer' under the Thames that will have a massive positive environmental impact on the river and its surrounds.
Managing director for S Walsh & Sons Joe Gifford said, "This new pusher tug will be the latest addition to our expanding marine fleet on the River Thames. It will provide us with unmatched capability and versatility to meet the needs of complex infrastructure projects such as Tideway, with more capacity to shift large volumes of bulk materials in to and out of the capital by the most sustainable means possible."
Concordia Damen has designed the vessel for operations on inland waterways and it therefore connects naturally to inland shipping barges. Furthermore, as a solution for operations in busy waterways such as the Thames, the vessel features 'azimuthing' thrusters for high levels of manoeuvrability.
By Jake Frith