Users of FarSounder's Argos Forward Looking Sonars (FLS) can now benefit from valuable survey software.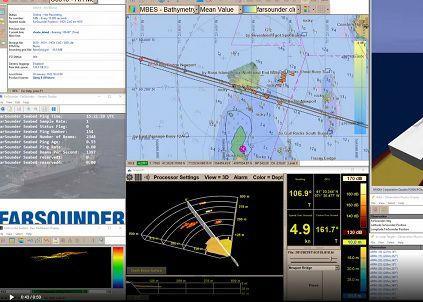 Quality Positioning Services (QPS) has integrated FarSounder's Argos FLS into its Qinsy survey software package. Argos sonar users are now able to display their FLS bathymetric data in the Qinsy platform along with the rest of the survey data they are capturing.
"The ability to stream data from FarSounder's sonars into Qinsy will allow operators to not only use their Argos systems to navigate in real-time, but also monitor bathymetry and detected hazards in Qinsy," said Heath Henley, FarSounder's hydrographic & advanced solutions specialist. "Users will now be able to incorporate bathymetric data collected using FarSounder's forward looking capability into their workflow."
Users will also have the ability to explore the area they are about to survey and check for hazards in real-time. Target and bathymetry data can also be imported into Qinsy to use as a guide when later performing a high resolution survey. With this integration into the QPS ecosystem, FarSounder data can now be included in the full survey data workflow.
QPS's hydrographic software products are used by a variety of commercial, military and scientific survey vessels.
By Rebecca Jeffrey