A new Sanmar ASD 60 tonne bollard pull tug, 'Svitzer Amstel' has been named and has begun operating in the Port of Amsterdam.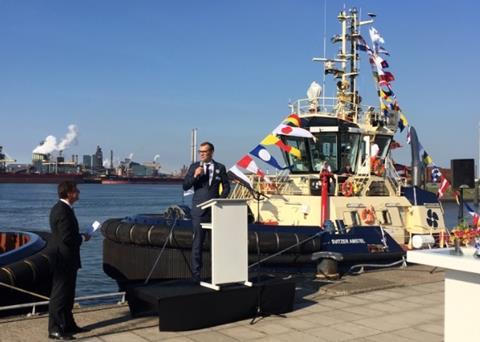 The naming ceremony was hosted by Port Towage Amsterdam, with attendance of senior management from Svitzer Europe incl. Managing Director Marc Niederer and Chief Operational Officer Deniz Kirdar True. In witness of the invited guests and with the Svitzer Amstel was alongside on the quay, Dertje Meijer, former CEO of the Port of Amsterdam, named the tug.
Svitzer Amstel operates in Amsterdam port where a versatile compact tug is needed to cater for varying water depths and different areas of the port inside and outside the locks. With 60 tons bollard pull, Svitzer Amstel can meet port requirements and assist a diverse range of vessels to meet customers' and pilots' needs.
Designed by distinguished Canadian naval architects, Robert Allan Ltd, the relatively new exclusive Bogacay model is based on Ramparts 2400SX series exclusively developed for Sanmar Shipyard.
The vessel measures 24.4m x 11.25m with a 60 tonne bollard pull derived from a pair of 3512 C Caterpillar engines, each developing 1,765kW at 1,800 rev/min., connected to Rolls Royce azimuth thrusters of US 205 FP type.
Svitzer now has a fleet of 6 tugs in Amsterdam operated by Port Towage Amsterdam (PTA), a JV owned equally by Svitzer and Iskes Towage.
By Jake Frith