To maintain effective frontier and waterway supervision and protection the Swiss Army is bringing in patrol boats from Marine Alutech in Finland to replace older boats scheduled to leave service.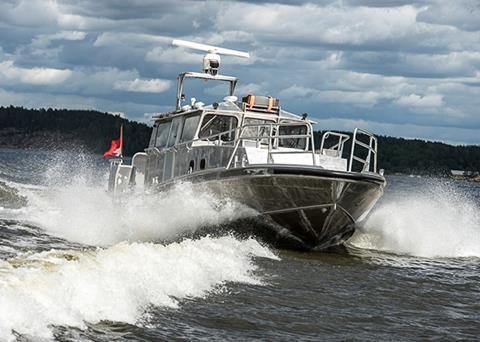 A Swiss Army spokesman in Berne reported eleven Type 80 patrol boats acquired in1982 for reconnaissance and supervision were being mustered out from 2019. Fourteen new Type16 boats from Marine Alutech are being delivered between 2018 and 2021. The contract is reported to be worth SFr 49 million.
Switzerland's Army patrol boat companies serve mainly on the lakes located on its southern borders with France and Italy and on its eastern frontiers with Germany and Austria. The army shares its boats with border and customs services.
An Army statement said the introduction of the new Type 16 patrol boats, which can be easily transported by road, would ensure it could maintain its level of waterway supervision, intelligence, patrol activity and rescue in future.
It said the new boats have integrated aluminium hulls, bridges and cabins and will carry 15 people. They also have two emergency bunks for round-the-clock operation as well as sanitary and cooking facilities. The Swiss Army also said the Type 16 newbuilds are driven by two unspecified diesel engines providing a top speed of 65 kms/hour and are fitted with radar, infrared and heat seeking equipment.
Neither Berne nor Marine Alutech provided specific engine details, dimensions or further technical information about the new boats. However Maritime Journal understands they are based on Marine Alutech's Watercat M12 military transport and landing craft design developed in the late 1990s for all-weather service with the Finnish Marines. The M12's basic specifications are said to "come close" to those listed for the new Swiss Type 16s.
According to the Finnish company's website, the M12 is 14.25m long and 3.65m wide with a maximum speed of 35 knots. It reportedly has two CAT 3126B/C7 Diesels to drive water jet propulsion units and has excellent maneuverability, stopping when necessary almost within its own length from full ahead.
The Swiss Army said the Finnish boats had been chosen again after an evaluation that took into account unspecified European firms which had already developed and built boats of the required size.
It added that the Swiss had decided for financial reasons not to develop the boats themselves. It noted that their hull design had seen service in Finland since 2000 and that various types had been developed since then with the bridge house and cabin becoming integrated.
The statement also said that for evaluation a specimen boat had been built for the Swiss so that technical and personnel tests could be carried out. "The boat met fully the expectations defined by the Swiss", it declared.
By Tom Todd