Swiss operator SNG in Lucerne has taken the luxury excursion and special events ship ''Switzerland 1'' into service after an epic journey of more than 500kms from its German builders.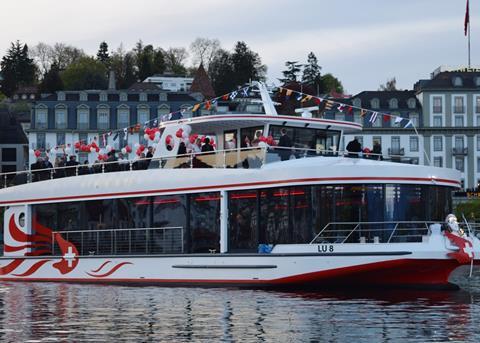 The hull and superstructures of the 26m long, 8m wide, 250 passenger ship were built at German small ship and workboat concern Stahlbau Mueller in Kempenich-Spessart near Cologne. SNG - the Sankt Niklausen Schiffgesellschaft Genossenschaft - is one of Switzerland's oldest shipping concerns, dating back 650 years.
The Switzerland 1 project has taken several years to complete and a big part of the story has been getting it to its new location in Central Switzerland. After completion at Stahlbau Mueller and trials on the Rhine, plans were to transport it in sections by road to Switzerland. These were discarded because of road works on the route and it was finally moved up the Rhine on a barge combination from Andernach to Rheinfelden near Basle in Switzerland. After dismantling in Rheinfelden, three large sections were transported on heavy road loaders to Stansstad on Lake Lucerne.
There it was re-assembled and its elegant interiors were designed and completed locally and by SNG personnel before the ship was named and launched in Lucerne. The ultra-modern, yacht-like Switzerland 1 was designed by Ritzdorf Schiffs- und Industrietechnik in Remagen and others and stress has been placed on economic and eco-friendly operation.
SNG spokeswoman Cornelia Burckhardt told Maritime Journal the newbuilding was powered by two Stanford generators, each of 200kW and driven by two D13 Volvo Penta Diesel engine plants over two conventional shafts, propellers and double rudders. Service speed was put at 11kms/h.
The ship's electronics systems were described as state of the art. All engine components, light controls, navigational elements and much other equipment were networked using a CAN-Bus system and centrally controlled German software, which was specially developed and programmed for the ship.
Burckhardt said SNG, which lists six other boats of 6-25m lengths in its fleet, was not considering further passenger ship acquisitions and considered the fleet complete for the time being. Commenting on the latest boat however she said "Switzerland 1 has stood the test very well. We get a lot of compliments about its super design, stability and great views", she added. Burckhardt also said the project had cost about SFr 2 million.
Stahlbau Mueller meanwhile was reported to be building another ship for Switzerland. It was a 20m long, 5.5m wide Diesel-electric driven passenger ship, the reports said, for 60 passengers and for a new company offering excursions on Lake Maggiore in Locarno.
The yard has also reportedly booked a passenger ship newbuilding for shallow water operation from next year in north-eastern Germany. Further details were however not immediately available.
By Tom Todd