A unique, long-reach telescopic leader rig will deliver costs savings to Tier-1 contractors.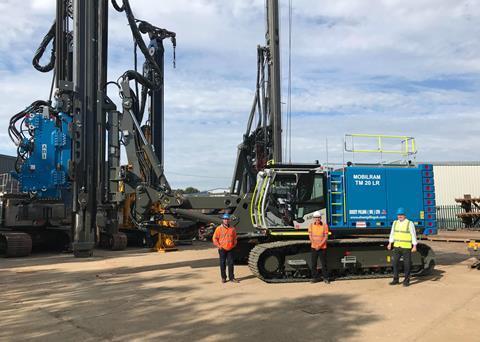 Sheet Piling (UK) Ltd's new TM 20 long-reach telescopic leader rig joins the TM 12/15 long reach rig within Sheet Piling UK's fleet.
Manufactured by ABI in Germany, the TM 20 LR boasts the same long-reach capabilities of its slightly older sister rig, being able to reach a full three metres further than anything else on the market when accessing the pile line. However, it can install and extract longer piles – up to 20m in length rather than 16m.
"This enables the two rigs between them to tackle any sheet piling project with ease, proving their huge financial worth in scenarios where an expensive and project-delaying temporary platform would typically have to be built, just to allow the sheet piling rig to reach the desired pile line," said Sheet Piling UK.
Other features of the TM 20 LR include an increase in the size of the vibratory hammer, a remote control unloading and loading function, and a hydraulic rapid-changing docking station.
A fixed boom hinge fabrication has been added to the centre slew of the base machine, so the long reach capability can be achieved.
The rig's first projects will be the A421 upgrade scheme for Morgan Sindall; a permanent basement construction project for McLaren Construction at a manufacturing facility in Warwickshire; and the A19 improvement scheme for Balfour Beatty.
By Rebecca Jeffrey